UN urged to embrace 2030 goal on ending extreme poverty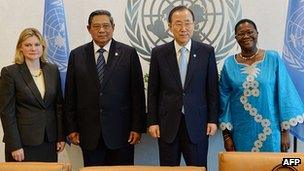 A commitment to end extreme poverty by 2030 is one of the key recommendations from an international panel co-chaired by David Cameron.
The British prime minister urged a "new global partnership" to tackle some of the world's biggest problems as the body's report was presented to the UN.
Other goals include improvements in women's rights, universal access to water and ensuring food security.
But an explicit commitment to reduce income inequality is not included.
Aid organisations have been pushing for this to be recognised as part of a new framework for international development after the expiry of the 2015 deadline for achieving the targets in the UN Millennium Development Goals (MDGs).
The MDGs sought to halve extreme poverty, defined as people earning less than $1.25 (83p) a day, but the panel called for a more ambitious goal over the following 15 years.
Thursday's report, to be presented to UN Secretary-General Ban Ki-moon, will form the basis for two years' negotiation on the agenda to replace the MDGs.
Mr Cameron, who chaired the panel alongside Liberian President Ellen Johnson Sirleaf and Indonesian leader Susilo Bambang Yudhoyono, said the report set out a "clear roadmap" for eradicating extreme poverty by 2030.
"We need a new global partnership to finish the job on the current Millennium Development Goals, tackle the underlying causes of poverty and champion sustainable development," he said.
Among 12 measurable goals set out in the report are an end to child marriage and equal rights for women to open bank accounts and own property.
The panel also recommends bringing together development and environmental agendas, with targets for reducing food waste, slowing deforestation and protecting ecosystems.
It also stresses the need for countries to give citizens confidence in their governments by promoting the rule of law, free speech, transparency and cracking down on corruption.
With Mr Cameron on holiday in Ibiza, the UK is being represented at the report's launch in New York by International Development Secretary Justine Greening.
Labour said Mr Cameron, who discussed the findings of the report on a recent visit to the United Nations, had squandered a "prestigious opportunity" to show leadership on the world stage.
A UK government spokesman said the proposals set out in the document were bold.
"They get to grips with tackling the causes of poverty - weak institutions, corruption and a lack of basic freedoms - as well as setting out an ambitious vision of ending things like hunger, illiteracy and violence against women," he said.
"This is vital work because Britain cannot compete, thrive and lead in isolation from the rest of the world."
Oxfam said it was pleased by the 2030 poverty target but warned that future goals would be undermined "without action to ensure that wealth is spread more fairly".
"Billions of people risk being left behind by economic growth, and in a world of finite resources the wealthiest cannot continue to expect more and more without hurting the rest," said its senior policy advisor Katy Wright.
Save The Children said it was up to all UN members to commit to these "world-changing and ambitious measures without watering them down or losing the focus of the report".
The Millennium Development Goal target for access to improved sources of water has already been reached as has halving the proportion of people living in extreme poverty but others, including on improving access to education, are unlikely to be met, the UN's most recent report says.