TV experts turned tsars: How did they do?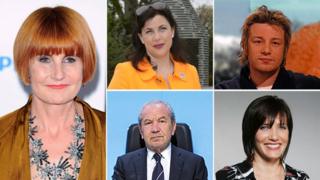 They seem to have all the answers on their top-rated TV shows - but how do the experts measure up when they are given a task of their own, by the prime minister?
James Caan
Famous for: Backing budding entrepreneurs with his own money - or sending them home with a curt "I'm out" - on three series of hit BBC business show Dragon's Den. Made his fortune in corporate recruitment.
Government job: Helping Deputy Prime Minister Nick Clegg launch Open Doors, a new government initiative aimed at boosting social mobility.
How he rated: "James has got off to a shaky start," as Evan Davis might say if Caan was in the Den.
The multi-millionaire wrote an article saying children should "find their own way" in life and not rely on a leg-up from their parents. But he was accused of hypocrisy after it emerged his two daughters both work for his companies.
Insists his daughters' recruitment process was "rigorous" and the furore around their jobs will not detract from his six month campaign to break down employment barriers.
Mary Portas
Famous for: Knocking retailers into shape and dispensing waspish one-liners on TV shows like Mary Queen of Shops. Worked her way up from window dresser at John Lewis to creative director of Harvey Nichols before TV came calling.
Government job: Signed up by David Cameron last year to lead a government review on the "future of the High Street". The PM was so impressed with the results he gave "Portas Pilot" towns a £1.2m fund to spend on regenerating some of Britain's most run-down High Streets, with the results filmed for a Channel 4 series.
How she rated: Twelve months on, results have been mixed. Ten of the 12 government-funded "Portas Pilot" towns have seen a fall in the number of occupied retail units, according to research by BBC Radio 4's You and Yours.
Shop vacancies have gone down in seven towns, but more shops overall have closed than opened. The government insists the pilots are working, saying the idea was to "harness the energy and enthusiasm of local people".
Carol Vorderman
Famous for: Being a whizz at solving mental arithmetic puzzles on Countdown, Channel 4's long-running afternoon quiz show. Landed the TV role shortly after graduating from Cambridge University with a third in engineering.
Government job: First flirtation with the corridors of power came in 1999, when Tony Blair signed her up to be the "face" of the Year of Mathematics. Ten years later she switched sides, when David Cameron appointed her head of a Conservative Party task force to develop policies to improve maths teaching.
How she rated: Vorderman's report on the state of maths teaching in English schools - and what should be done about it - did not pull any punches.
But by the time it was published, in August 2011, the Conservatives had gone into coalition with the Lib Dems, so it could not be counted as an official government report.
It was, nevertheless, enthusiastically received by Education Secretary Michael Gove, who backed Ms Vorderman's call for maths to be taught until the age of 18 and to use more "real life" examples to hold sixth formers' attention.
Jamie Oliver
Famous for: Being a TV chef, best-selling author, entrepreneur, philanthropist and campaigner for better diets on both sides of the Atlantic. The one-time Naked Chef has his fingers in many pies.
Government job: Tony Blair offered Jamie Oliver an "advisory role" on school dinners in 2005 - but only after the TV chef had threatened to deliver a 271,000 name petition to Downing Street in support of his Feed Me Better campaign.
How he rated: Pukka. Initially, at least. Tony Blair set up a £280m School Fund Trust to pay for better quality ingredients for school meals. But his services were apparently spurned by the coalition last year in favour of Henry Dimbleby and John Vincent, founders of the restaurant chain Leon. Oliver accused the coalition of pulling back on the improvements made in 2005, including scrapping nutritional standards for academy schools. Now says nice things about UKIP.
Lord Sugar
Famous for: Making a fortune in the 1980s with Amstrad home computers (don't mention the em@iler phone). Putting the fear of God into hapless contestants on The Apprentice. "You're Fired". That is his catchphrase.
Government job: Gordon Brown unveiled Lord Sugar as his new business and enterprise tsar in his 2009 cabinet reshuffle. "SurAlan" became Lord Sugar, taking up a seat on the Labour benches in the House of Lords.
How he rated: "But you didn't even have an office in the department!"
It is not hard to imagine how Lord Sugar might react if he faced himself across the Apprentice boardroom at the end of the government adviser task. But the peer was not deterred by sneering of critics in the media who claimed his appointment, to promote Labour's apprenticeship scheme to small business people, was just a gimmick.
In fact he was keen to carry on in the role for the coalition, only to be told by David Cameron "You're fired."
"I am happy to work with them but they don't want to work with me. It's a real shame," recalled the multi-millionaire.
Kirstie Allsopp
Famous for: Handing out advice to would-be property buyers and joking around with co-host Phil Spencer on a string of Channel 4 shows such as Location, Location, Location.
Government job: Formed another double act with shadow housing Minister Grant Shapps when the Conservatives were in opposition. Took more of a back seat when the coalition was formed but still shared a platform with Mr Shapps and David Cameron, when they announced the scrapping of Home Information Packs (HIPs).
How she rated: Stormed up the property ladder with her campaign to scrap HIPs, but failed to persuade ministers to scrap stamp duty. Rumours she would be parachuted into the House of Lords as a Tory peer have proved wide of the mark so far.
"They would never give me a peerage. I mean, can you imagine making me Lady Allsopp and then a week later you opened the paper and I was saying that everyone who litters should be thrown in jail? No, it would never happen," she told the Daily Telegraph in 2010.
"People perceive me as being far more political than I am."
Tanya Byron
Famous for: Dispensing parenting advice on BBC programmes Little Angels and The House Of Tiny Tearaways. A clinical psychologist specialising in drug abuse before TV fame. Co-created BBC2 sitcom The Life and Times of Vivienne Vyle with Jennifer Saunders.
Government job: In 2007, Gordon Brown appointed the TV psychologist to lead a government inquiry into effect of violent videos and internet porn on children.
How she rated: If she was one of the subjects of her show, she'd have earned herself a few gold/green/pink stars for her sticker chart.
Her first report, in 2008, led to the formation of the UK Council for Child Internet Safety - a group of more than 200 organisations across the government, industry, law enforcement, academia and charity sectors. The UKCCS drew up a code of practice for a safer, family-friendly internet which continues to form the basis of government efforts to clean-up cyberspace.
A follow-report, in 2010, "Do we have safer children in a digital world?," looked at how much progress had been made.
Loyd Grossman
Famous for: Judiciously prodding fancy desserts in the original version of TV cook-off Masterchef. Nosing around celebrity pads on Through the Keyhole ("Who lives in a House Like This?"). Launching his own range of cook-in sauces.
Government job: Hospital food tsar. Drafted in by Labour's Alan Milburn in 2000 to draw up delicious and nutritious new menus for NHS patients in England and Wales as part of a £40m Better Food for Patients scheme.
How he rated: Not that well, apparently.
"My team and I worked hard for five years to improve patient meals but progress was much slower than we would have liked," said the American food guru earlier this year.
"Although we had a number of successes, we did not achieve the transformation which we had hoped for and which patients deserve. While I could see what needed to be done and what could be done, our efforts were hampered by a lack of political will.
"There has not yet been a noticeable change in the way hospital food is produced, prepared, cooked and served."