High Street planning changes criticised by councils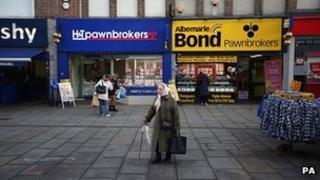 High Streets in England could be overrun by betting shops and payday lenders under new planning rules, local councils have warned.
The owners of certain premises no longer have to apply for permission for a change of use from Thursday.
The government says the move will boost economic growth and bring boarded-up shops back into use.
But the Local Government Association calls it a "panic measure" that will cause "lasting damage" to High Streets.
The change in planning law is designed to encourage "pop-up" shops or restaurants, which take over empty premises for a short period of time, helping to revive ailing town centres.
'Unintended consequences'
LGA chairman Sir Merrick Cockell said he also wanted to boost trade but the changes would rob local people of a say over the character of their High Streets and could have serious "unintended consequences" in some areas.
Local authorities are already powerless to prevent bookmakers and payday lenders opening up on High Streets says Sir Merrick, which has led to the "clustering" of such businesses, often in low income areas.
"We have problems already - you might look at somewhere like Tottenham High Road in Haringey (in London) - they've got 11 betting shops in the centre of that High Street under the current rules, because in planning terms we can't tell the difference between a bank, a betting shop or indeed a payday loan company.
"Now with the changes coming in today, shops that are currently normal shops or cafes or restaurants could also be turned into betting shops without any say whatsoever."
Planning Minister Don Foster said he was concerned about the growth of fixed-odds betting terminals, roulette machines in betting shops which campaigners claim are highly addictive and which account for a growing proportion of bookmakers' profits.
He said the Gambling Commission was carrying out a "major review" of such machines, which could lead to new restrictions on them.
Temporary change
But he said betting shops and payday lenders were not unregulated and still had to apply for licenses to operate - and councils could still appeal against a change of use under something called an Article 4 Direction.
The new planning rules had been welcomed by small business groups and the government's retail adviser Mary Portas, who wanted a "reduction in red tape", added the Lib Dem minister.
The government says Barking and Dagenham Council, in East London, is considering the use of an Article 4 Direction to curb the "proliferation of betting shops".
But Sir Merrick said most councils were reluctant to use the powers due to their cost and the length of time they took to enact.
Labour's Hilary Benn warned that the new rules could also make it easier for betting shops to open in pubs - something denied by the government.
"These changes, which have been pushed through without Parliamentary scrutiny, weaken the ability of local communities and councils to shape their High Streets and local economy in the way they want," added the shadow communities and local government secretary.
Under the planning changes, buildings currently used as offices will also be able to be converted into flats without the need for planning permission, or any obligation to include affordable housing, until 2016.
Listed buildings are excluded from the new rules, while 17 local authorities, including 10 in London, have been granted full or partial exemptions on the grounds of specific economic circumstances in their areas.
At the same time, a two-year freeze is also being introduced on the need for planning applications for temporary change of use for a range of High Street premises, including hairdressers, banks, bars, cafes, post offices, takeaways, libraries and cinemas.
This would allow units not exceeding 150 sq m to spring up at short notice and trade for a limited period as long as long as they meet the criteria of being either shops, restaurants, business offices and financial or professional services.
Multiple changes will be permitted within the two-year period but retailers will need to notify councils what they intend to use the building for, and for how long, in advance of setting up.
'Unacceptable impact'
The Federation of Small Businesses welcomed the changes, saying it hoped they would "speed up regeneration while still maintaining vital protections for vulnerable town centres."
Controversial changes allowing homeowners to build larger home extensions will also come into force.
Ministers originally proposed relaxing the rules to allow single-storey extensions of 8m for detached houses and 6m for other properties without the need for planning permission.
But following opposition from Tory and Lib Dem backbenchers, the government revised the proposals to require homeowners to "notify" councils of their plans and to consult their neighbours.
In the event of objections, local authorities will decide whether a development would have an "unacceptable impact" on the quality of life or value of a neighbouring property.