'Bedroom tax': More tenants apply for financial help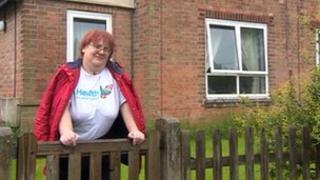 Bedroom tax or spare room subsidy? The politicians may argue over the title but one fact can't be ignored.
That's the growing evidence of council tenants facing real financial difficulties.
New figures from councils in the East Midlands report a rise in the number of people applying for emergency financial help to avoid eviction.
It's known as the discretionary housing payment (DHP) and it offers a short-term cash lifeline.
Rent increases
Stephanie Chapman, from Leicester, is typical of many tenants seeking DHP help.
She cares full time for her mother and brother, who live nearby.
Home is a rented 1920s council house in the city's Knighton area, where she's lived for 13 years. It's got two bedrooms upstairs.
Stephanie showed me the downstairs box room that's now been deemed a spare bedroom. Under the government's welfare reforms, she'll have to pay an increase in rent or quit the property.
"I've measured it. It's just 63 sq ft. That's tiny," she told me.
"A young child could just about sleep in there but it's too small for an adult. In fact, it would be regarded as statutory overcrowding."
Her monthly rent will now cost Stephanie an extra £72.
That's why she's one of hundreds of tenants seeking emergency cash assistance.
"If there was any smaller accommodation in the vicinity, I would move but there just isn't," she added.
"The government haven't thought it out. They haven't looked at people's circumstances.
"Many tenants don't understand what is happening to them. When they get the letters through the postbox, it's 'oh my God'. Quite honestly, we're scared."
'Vulnerable people'
Since the introduction of the bedroom tax/spare room subsidy, councils in the East Midlands are reporting more people applying for DHP cash.
Nottingham City Council has dealt with 223 applications for financial help, a fourfold increase on April last year.
In Derby, it's 420 households, that's almost as many as the whole of last year. And in Leicester, there were 327 cases - six times as many as April 2012.
"I'm not surprised at those figures at all," said Labour's Leicester South MP Jon Ashworth.
"The government's got to rip up this bedroom tax. Lots of vulnerable people are being hit by it. It's so deeply unfair."
Mr Ashworth also warned that it could be a false saving as more tenants are forced into the private rented sector.
"They are going to be claiming more in housing benefit because there isn't the right sort of accommodation available. That's why I favour a huge house building programme," he added.
'Faulty' system
The government calculates there are one-and-a-half-million spare bedrooms in council homes across England and Wales and a quarter of a million families in overcrowded accommodation needing family-sized homes.
But critics say the the changes are a blunt instrument to free up more houses.
Not so, says Sherwood Conservative MP Mark Spencer.
"The government's recognised that people feel squeezed. That's why it's put an extra £150m aside to help with the discretionary payments to ease the changes," he said.
"We've got families living in overcrowded accommodation and people with spare rooms. We've got to mix it a bit to address the faults in the system.
"But it strikes me that Labour councils are folding their arms and whingeing rather than looking after their communities."
Mr Ashworth is outraged at such comments.
"This isn't about whingeing. Labour councils haven't got enough suitable housing for the people who need it.
"Tory MPs and Tory councils should instead look at why they always oppose building new homes," he told me.
Bedroom tax or spare room subsidy: when the political parties can't even agree on the language, you know the reform is highly controversial.