Police commissioners register needed to 'guard against mavericks', say MPs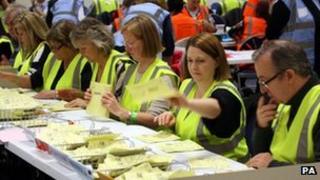 Ministers are failing to properly monitor the salaries and professional standards of Police and Crime Commissioners (PCCs), MPs have warned.
The Home Affairs committee has published its own register of PCCs, claiming "no-one in government is keeping track" of them.
But chairman Keith Vaz said an official register was needed to guard against "maverick decision making".
The Home Office said it was up to voters to hold PCCs to account.
The report compiled by the Home Affairs Committee sets out the pay, weekly hours, other activities and staff costs for each of the 41 police areas in England and Wales.
The register suggested "a massive gap" between the salaries and types of second jobs carried out by PCCs.
Mr Vaz said: "The public cannot possibly judge whether their PCC is upholding the standards of the office and giving them a good deal unless they make a comparison with other PCCs."
'Electorate will judge'
The Home Office says it will consider the committee's findings.
"By law, police and crime commissioners have to publish a register of interests, including budgets and expenses, and the key elements will be displayed on the national police.uk website," said a spokesman.
"The local electorate will judge whether PCCs are making best use of public money and hold them to account at the ballot box."
In October 2012, people across England and Wales went to the polls to elect local commissioners. Turnout was as low as 12% in some areas, prompting a critical review by the Electoral Commission.
The PCCs' main role is to listen to public concerns on crime, and hold chief constables and the police force to account. The government hopes the new structure will increase the accountability of law enforcers.
Several commissioners have been heavily criticised for decisions since their election. A special task force is looking into the chief constable of Lincolnshire's suspension by the local PCC, and a youth PCC resigned in Kent after she wrote offensive comments online.
'Suspicion'
A national register of chief constables is currently being compiled by the government. The MPs' report argued that it would make "clear sense to do the same for their elected counterparts".
"The lack of such information centrally will inevitably encourage rumours, media speculation and suspicion, which may well be totally unfounded," the report stated.
A previous investigation by the BBC's Home Affairs Correspondent Dominic Casciani found that the type of information published by different PCCs was widely varied, with no ready comparison available.
The BBC political research unit's Ed Brown described some commissioners' websites as "labyrinthine".