Nick Clegg vows to introduce lobbying register by 2015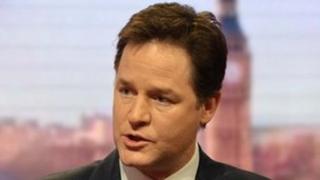 Nick Clegg has insisted he remains committed to a statutory register of lobbyists to help clean up politics.
The policy is in the coalition agreement signed by Mr Clegg and David Cameron, but has not yet made it into the government's legislative programme.
It has been reported that Lynton Crosby, the prime minister's adviser, is keen to abandon the plan.
Mr Clegg said he had so far been unable to secure agreement for the register from both sides of the coalition.
Lobbyists are firms or individuals which are paid to influence government decisions. They are often former politicians or civil servants who have developed personal contacts with those in power.
Scandal
In recent years there have been several scandals involving lobbying, including the resignation of Defence Secretary Liam Fox.
Mr Fox allowed defence industry lobbyist Adam Werritty, Mr Fox's former flat mate, to accompany him on foreign trips where he met diplomats, defence staff and defence contractors. Fox said he had "mistakenly allowed" personal and professional responsibilities to be "blurred".
Before the last election, Mr Cameron said of lobbying: "It is the next big scandal waiting to happen.
"It's an issue that crosses party lines and has tainted our politics for too long, an issue that exposes the far-too-cosy relationship between politics, government, business and money."
The coalition agreement, which set out the government's programme in 2010, said: "We will regulate lobbying through introducing a statutory register of lobbyists and ensuring greater transparency."
Mr Clegg said: "I do think we need to just honour what we said in the coalition agreement... Like everything in politics, the more open and transparent you can be about stuff the better."
He added: "I think the prime minister himself said that he thought inevitably there was going to be another scandal about lobbying at some point, so I do think we need to act."
Francis Ingham, director general of the Public Relations Consultants Association (PRCA), an organisation which represents lobbying firms, says that the governments proposals would not cover all lobbying activities, and described them as being "unfit for purpose".
He said: "We are consistently told the government is still committed to a statutory register, but nothing has been done since its disappointing consultation last year."
PRCA chairman Emily Wallace said: "If Nick Clegg is serious about delivering greater transparency, then he needs to make sure that any Bill to introduce a statutory register of lobbyists covers more than those currently covered by the existing voluntary registers."
'Disillusioned voters'
It has been reported that the prime minister's strategist Lynton Crosby wants to remove what he sees as extraneous policies from the government's agenda, and concentrate on a few key areas in the run-up to the 2015 general election.
Questions have been raised about the influence of Mr Crosby, whose lobbying firm Crosby Textor has represented firms involved in tobacco, alcohol, banking, property development and the oil industry.
Mr Cameron has said: "He doesn't lobby me so his work, his lobbying, the lobbying business is a matter for the lobbying business."
Tamasin Cave, of the Alliance for Lobbying Transparency, an organisation which campaigns for more regulation of the industry, said: "The coalition have made a promise which is more necessary than ever.
"Many voters are becoming disillusioned with politics, and while this may seem like a minor political reform, it is about restoring trust in politics."