'Unhealthy' drink culture among MPs - Alcohol Concern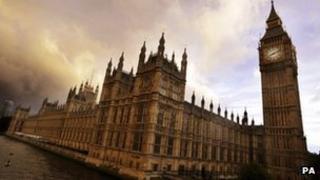 A quarter of MPs believe there is an "unhealthy" culture of drinking in Parliament, a survey has suggested.
Of the 150 MPs who responded to a poll for Alcohol Concern, 26% thought their colleagues drank too much.
It also suggested that £1.33m was spent in the nine bars at the House of Commons in the year to March 2011.
A spokesman for the Commons said action had been taken in 2012 to do more to promote responsible drinking, including fewer top-ups and more soft drinks.
Alcohol Concern's survey suggested that 31% of Labour MPs, 20% of Conservatives and 19% of Liberal Democrats thought their colleagues drank too much and the charity called for a change in drinking habits among politicians at Westminster.
'Lead by example'
Chief executive Eric Appleby said: "If a quarter of employees reported an unhealthy drinking culture in any other organisation it would provoke immediate action by bosses.
"Surely it's time for Parliament to rethink its drinking culture and lead by example."
Earlier this year Falkirk MP Eric Joyce was banned from buying alcohol in Parliament following his arrest over an alleged drunken brawl in a Commons bar.
Joyce was convicted of assault in a parliamentary bar last year, and later resigned from the Labour Party but police have said he will face no charges following his arrest in March 2013.
In 2011, Conservative MP Sarah Wollaston said many of her colleagues "drink heavily" and called for a change in the drinking culture at Westminster.
A spokesman for the Commons said it took its responsibility for the welfare of staff "very seriously" and its ruling House of Commons Commission had agreed a range of actions to tackle the issue in April 2012.
He said those included providing a wider range of non-alcoholic drinks and lower strength beers, more training and support for staff who refused to serve customers "when necessary" and fewer top-ups at receptions and events where alcohol was served.
The Commons has also been promoting its support services for those with drink issues.
ComRes surveyed 150 MPs online or by a paper survey between 18 February and 15 March 2013.