Childcare ratios: We will find way forward, says Cameron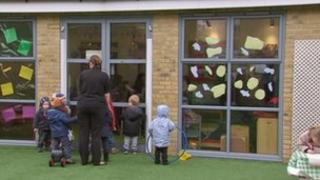 David Cameron has said the coalition will "find a way forward" on its childcare changes in England.
Childminders and nurseries were to be allowed to look after more babies and toddlers from September - part of efforts to cut childcare costs.
But Deputy PM Nick Clegg has indicated that he has concerns about safety and whether it would reduce costs.
Mr Cameron said the plans had "a lot of merit" and creating "quality affordable childcare" was a priority.
Mr Clegg's opposition looked set to block plans put forward by Conservative Education Minister Liz Truss to increase the number of children a trained adult can look after in England.
Education Secretary Michael Gove had suggested Mr Clegg was picking a fight with the Tories over the issue to shore up his leadership - Mr Clegg dismissed that as "tittle-tattle" and suggested Mr Gove knew "a thing or two about leadership ambitions" himself.
Now the prime minister has stepped in and indicated he is prepared to compromise.
Speaking to reporters on his trip to the US, Mr Cameron said creating "quality affordable childcare" was a "very important priority for the government".
"I think the proposals that we put forward about both qualifications and ratios had a lot of merit," he said.
"Clearly there now needs to be a discussion in the coalition about how best to go forward and respond to the consultation. But I'm confident, as with all these things, we will find a way forward."
BBC deputy political editor James Landale said that for Mr Cameron this mattered, because trying to help parents with the cost of living and making it easier for them to work was a key objective of his government.
'Random proposals'
The plans would allow nursery staff to look after four babies instead of three and six two-year-olds, instead of the current limit of four.
Home-based childminders would be allowed to look after two babies under one, instead of one as currently, and four one-to-five-year-olds, up from three.
But carers' qualifications would have to meet new standards.
The plans have also met some opposition from parents' groups and charities - and Labour has said the plans are now "in chaos".
Catherine Farrell, of the Professional Association for Childcare and Early Years, said the government needed a "joined-up strategy" for childcare rather than the current "random set of proposals".
She said that while the government wanted higher-quality childcare it was also proposing to remove the statutory duty on local authorities to ensure that those providing it got the training and support to improve.
"Government says it will only allow providers with higher qualifications to operate its proposed higher ratios. But for childminders, it is not proposing any qualification requirement, only the option of joining a childminder agency, which childminders themselves have rejected as a bad idea," she said.
Neil Leitch, of the Pre-School Learning Alliance charity, said he was pleased the prime minister was prepared to compromise but the current "ill-considered" proposal should be scrapped altogether.