Liam Byrne: Labour would aim for 'full employment'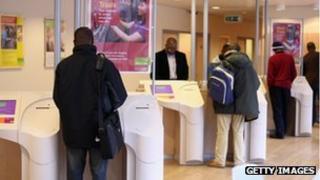 Full employment is the "foundation" on which the economy should be rebuilt, a senior Labour politician has said.
Shadow work and pensions secretary Liam Byrne said aiming for full employment had been a core Labour Party ideal for 70 years.
But the party now had to make a case for it as a means of cutting the deficit and the welfare bill, he said.
Mr Byrne is also considering handing control of welfare to new local bodies if Labour wins the next election.
The Conservatives said Mr Byrne had launched a policy without any details and had opposed welfare savings.
Labour has been carrying out a wholesale review of its entire policy agenda ahead of the next general election.
Leader Ed Miliband has spoken of the need to come up with fresh ideas to cut unemployment and kick start growth at a time when there is less money to spend.
'Social disease'
The party has vowed to explore radical ideas to tackle unemployment "blackspots," which it says in a report entitled No Place Left Behind are getting worse.
Research by the House of Commons library, published by Mr Byrne, suggests unemployment is getting worse on the three quarters of housing estates in Britain where it is highest.
In a speech in Newcastle, Mr Byrne said the "old consensus" about the desirability of full employment had disappeared and the policies of the current government showed that Chancellor George Osborne believed that a certain level of unemployment was a "price worth paying".
In contrast, he said Labour had always recognised that joblessness, in the words of former foreign secretary Ernest Bevin, was a "social disease" and full employment was the catalyst for socio-economic change.
"Full employment has always been the foundation for rebuilding Britain," he said. "It was for Atlee's Labour, it was for New Labour, it will be for One Nation Labour.
"Today the goal of full employment is important for a very simple reason. The faster we return to full employment, the faster we can pay down our debt and the faster we can put the 'something for something' back into social security.
"The Tories' problem is that they lost belief in full employment many years ago...This failure is now costing us not less but more. And more money spent on unemployment means less for working people and less for care."
The UK, he said, faced parallel challenges of long-term unemployment, youth unemployment, under-representation of women in the workforce and entrenched joblessness in parts of country where old industries had disappeared.
To tackle these problems, he said there needed to be far greater co-ordination of resources devoted to skills training, education, economic regeneration, housing, planning, transport and environmental sustainability.
'High and stable'
The government's flagship back-to-work programme was "hopelessly centralised" and the UK should follow the lead of Germany and Canada in giving local councils more freedom to pursue their own priorities.
Giving local authorities and new regional bodies a role in deciding how the welfare budget is spent, in place of the Department for Work and Pensions, could save billions of pounds and cut the benefits bill, he suggested.
Mr Byrne backed the principles set out by Tory grandee Lord Heseltine in his recent report on growth, calling for much greater devolution of power and arguing that the work and pensions secretary is a "roadblock to reform".
But the Conservatives accused Mr Byrne of failing to provide any details about Labour's welfare policies and of opposing £83bn in benefit savings without saying how they would pay for them.
Conservative Party Chairman Grant Shapps, said: "Labour have launched a welfare policy with absolutely no detail and no new ideas about how to reform welfare to make work pay.
"All Ed Miliband offers is the same old Labour answer of more borrowing and more debt - exactly how they got us into this mess in the first place."
Full employment was a stated aspiration of successive post-war governments but fell out of favour in the 1970s.
Definitions of full employment differ and it does not imply 100% employment since it is accepted that a percentage of the workforce will always be between jobs.
But economists refer to it as the attainment of the highest amount of skilled and unskilled employment at any given time at prevailing wage rates while politicians have spoken of the need for "high and stable" levels of employment.