Right-to-buy scheme for council houses 'reinvigorated' say ministers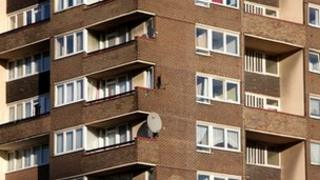 Ministers say the right-to-buy scheme has been "reinvigorated" after a sharp increase in the number of council house tenants buying their homes.
In the 12 months to April, 5,942 properties in England were sold to tenants, up from 2,638 the year before and the highest figure for five years.
This followed the government's decision to increase the discounts available to tenants to a maximum of £75,000.
The scheme, introduced by Baroness Thatcher, has languished recently.
Annual sales fell from a peak of 160,000 in the early 1980s and 80,000 from 2000-09, to 4,000 in 2010-11.
The government has been trying to breathe new life into the scheme as part of a package of measures aimed at addressing what has been described as a "housing crisis" in England.
More eligible
Figures out last month showed home ownership levels fell from 69% in 2001 to 64% in 2011 - the first decline in almost a century - as rising prices and tighter loan requirements saw more and more people struggle to get on the property ladder.
At the same time, fewer than 120,000 new homes have been built in England in each of the past four years, well below historic levels seen over the previous two decades.
Campaigners say urgent action is needed but the government insists it is acting on a number of fronts, by making surplus land available for developments, reforming the planning laws, increasing investment in affordable housing and guaranteeing mortgages for first-time buyers and families looking to move to larger properties.
Ministers have welcomed the uplift in right-to-buy, with government figures showing sales increased by 55% in the year to April and quadrupled in the first quarter of 2012 compared with the same period last year.
In 2012, discounts on sales of council and social homes - which had fallen as low as £16,000 in some areas after the introduction of regional caps - were increased to a maximum of £75,000.
In March's Budget, Chancellor George Osborne said this figure would rise to £100,000 for houses in London, while the qualifying period for tenants to be eligible for the scheme would be reduced from five to three years.
'Chronic shortage'
The size of discount offered is based on the length of the tenancy, the type of property and its value - while those selling their property on within five years are expected to repay some of the amount.
Housing minister Mark Prisk said he was delighted that more people were "seizing the opportunity" offered by right-to-buy.
"As a government, we are determined to ensure that whoever you are - whether a prospective first-time buyer, an existing homeowner or a social tenant - if you work hard and want to get on, we will support you."
Separate figures also published on Thursday showed that while the number of new housing projects begun in the first three months of the year rose by 4%, completions fell by 8%.
But housing charity Shelter said this was further evidence that the government's overall housing policy was not working.
'Short-term quick-fix announcements may have stolen some headlines, but the reality is that a generation's hope for a home of their own is continuing to slip away because of our chronic shortage of affordable homes," said director Campbell Robb.