The Conservatives and Europe: Can the party resolve its dilemma?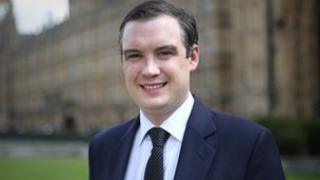 Conservatives risk talking too much about Europe, and not about things like the cost of living, tax and immigration.
So said the Conservative backbencher James Wharton.
Less than 24 hours later, he announced he would introduce a bill on an EU referendum. It sums up the Conservative dilemma.
They know Europe matters - hugely to some - but do not want to give the impression they think of nothing else.
Wharton ended up tabling the bill because he came top in a ballot of MPs wanting to introduce their own laws. It will allow Parliament to have its say on the matter so MPs can "really focus", Wharton said, on the things that matter to voters.
Many Conservatives had a similar hope when David Cameron gave his big speech on Europe in January.
They thought the promise of an in/out referendum by 2017, and a draft bill before the election, might be enough to stop the Euro chatter. It did not work out like that.
David Cameron has withdrawn his MEPs from a European Parliamentary group felt to be insufficiently sceptical, blocked an EU-wide treaty change and secured a real-terms cut in the EU budget envelope.
Canny sceptics
None of it has been enough to silence his Eurosceptics.
No surprise, say critics of noisy backbenchers: nothing short of withdrawal will please them. That is not entirely true.
Some say the prime minister has now done enough. But the sceptics are nothing if not canny about Parliamentary procedure. They managed, by attempting to amend the Queen's Speech, to ensure a prime ministerial trip to the US was dominated by Europe.
They will make sure the passage of this private member's bill sees the maximum publicity for their arguments. And they are ever optimistic.
Time and again they have been rejected or derided and fought back.
Even now they will be looking at the number of MPs who supported the Eurosceptic Queen's Speech amendment.
If you add the votes of ministers who were told to abstain on that division but will be whipped to support the private member's bill, a vote on the legislation looks like it could be very close indeed.
Front and backbench Tories alike will urge journalists to turn their attention now to Labour and the Liberal Democrats, hoping to cast the other parties as reluctant to let the public have a say on this issue.
The prime minister and the chancellor have talked of a relentless focus on the economy and growth.
Those who worry that this focus has not been as obvious as it should have been since UKIP's success at the local elections will wonder about the effect of a fresh debate on the European Union.