New dangerous dogs laws do not go far enough, say MPs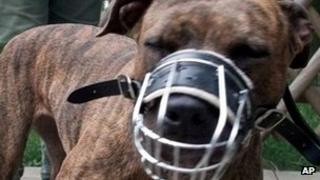 Tougher laws to tackle the threat of dangerous dogs and irresponsible owners do not go far enough, MPs have said.
Plans to make it a crime in England and Wales to allow a dog to be dangerously out of control on private property were welcomed by the environment committee.
But it criticised a lack of action to address threatening behaviour at an early stage and reduce risk of attacks.
The government said anti-social behaviour reforms would give police more powers to deal with irresponsible dog owners.
More than 200,000 people a year are estimated to be bitten by dogs in England, based on research for the British Medical Journal.
Campaigners say legislation dating back to 1991 has been ineffective in dealing with aggressive animals.
The law covers only attacks by dogs in public places and private areas where animals are prohibited from being, such as a neighbour's garden.
Ministers want to extend the scope of the law to enable a prosecution to be brought against anyone whose dog injures someone or acts aggressively in a private place where they are permitted to be, such as a home.
'Reasonable precautions'
There have been eight fatal attacks in private residences since 2007, most recently in March, when teenager Jade Anderson was mauled to death in Wigan when she visited a friend's house.
Police have no plans to prosecute anyone in relation to her death, saying there is no evidence a crime has been committed and that they are bound by the law.
The cross-party committee said existing laws had "comprehensively failed" to deal with the threat from dangerous dogs and welcomed the proposed extension - which could also see maximum penalties increased from a six-month jail sentence to two years.
The government's plans would also criminalise attacks on assistance dogs while exempting homeowners from prosecution in the event of an attack on a trespasser.
However, the MPs questioned whether they would apply in cases where someone had trespassed with "innocent intentions" - such as a child recovering a ball from a neighbour's garden.
The committee also expressed concerns about how incidents on surrounding land, such as gardens or paths, and outside dwellings such as sheds would be treated in law.
It said the courts should be allowed to take into account the actions of responsible homeowners who took "reasonable precautions" to stop their animals from causing harm, such as putting up warnings outside properties and securing fences, as opposed to those behaving "negligently".
'Tailored powers'
The committee also said homeowners "needed assurance" that they would be protected in the event of attacks on trespassers when they were not at home.
It was the police's view, the MPs said, that the public felt a dog left on its own had a role in protecting the property and this should form the basis of a legal defence when attacks occurred during owners' absence.
On the issue of preventing future attacks, the committee said there was a lack of action and the proposals would actually limit council powers to stop animals from entering certain areas.
It is calling on ministers to reconsider the case for Dog Control Notices - introduced in Scotland in 2011 - which give local authorities powers to tackle all aspects of dog-related crime such as illegal breeding and the ownership and training of so-called "status dogs".
'Hasty legislation'
The committee argues that ministers must "provide law enforcers with tailored powers to tackle aggressive dogs before they injure people and other animals".
Other recommendations include licensing for dog breeders producing a minimum of two litters - as opposed to five now - and a code of practice covering online sales of animals.
The British Veterinary Association echoed the MPs' concerns that the proposals "did not go far enough".
"Instead of making more mistakes with hastily made legislation we are asking the government to think again and reconsider introducing Dog Control Notices," its president Peter Jones said.
And Steve Goody, of pet charity the Blue Cross said that without Dog Control Notices "enforcement officers will remain powerless to tackle irresponsible owners and antisocial behaviour with dogs before attacks take place".
A government spokesman said it was taking "urgent action" to protect the public from dangerous dogs.
"We are changing the law so that owners can be prosecuted for dog attacks on private property and our anti-social behaviour reforms will give the police and local agencies more effective powers to deal with owners who fail to take responsibility for their dogs."