David Miliband's move to US 'an episode not an emigration'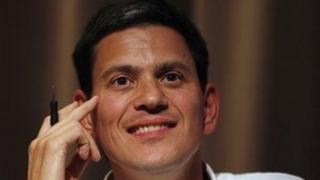 David Miliband has described his move to New York to take up a new job as an "episode not an emigration".
Speaking at a charity event in London, the former foreign secretary refused to speculate about his next move as he had not even started the new role.
But he did not rule out a return to British politics at some stage.
Mr Miliband stood down last month as a Labour MP for South Shields to take up a role with the International Rescue Committee in New York.
He was interviewed at the event by Channel 4 News presenter Jon Snow to raise cash for Primrose Hill Community Library, which was saved from closure.
'Fantastic'
The fundraiser took place at Cecil Sharp House, close to Mr Miliband's Primrose Hill home in North London, before a packed audience of local residents.
Asked by Jon Snow about whether the British political system could afford to lose him, Mr Miliband, who narrowly lost out to younger brother Ed in the Labour leadership contest, joked: "I think that was an issue in 2010."
He added: "I don't know what I'm going to do next. I haven't started my new job. I have taken the job because I think it is a chance to make a real difference for a group of people in 45 countries - the most desperate people in the most desperate places."
The International Rescue Committee, a not-for-profit group which employs 12,000 staff, works in conflict and disaster zones to provide emergency relief and resettlement services.
Pressed by Jon Snow on whether he would rule out a return to British politics, Mr Miliband said: "I am not ruling in and I'm not ruling out. I am not on tenterhooks, still less anybody else should be on tenterhooks, about what my next move should be."
'Hard times'
When discussing the job offer with wife Louise, a concert violinist, he said they had decided to keep firm roots in the UK and not discard friendships and commitments they had built up.
"We thought about it and said 'look this is an episode not an emigration'".
That did not mean he was going "half-heartedly," he stressed, adding that it was a "fantastic" opportunity.
In a wide-ranging conversation, he spoke about Iraq, Syria, the banking crisis, education and the current debate about the EU, as well as his memories of growing up in Primrose Hill and his time as a student at Haverstock Hill comprehensive, where he has recently been teaching A-level politics.
On the Europe debate, he said it was "deeply worrying" that pulling out of the EU was becoming a "mainstream position for a serious country in the 21st Century".
But he said the big three Westminster parties should not dismiss UKIP voters, who were looking for an alternative to the "traditional politics of the centre right" and "statist, top down" government.
"They want something better. That is what is going on. It's the politics of hard times."
He also criticised what he called Britain's "culture of denigration" and tendency to not take itself seriously, which he said could be seen as a symptom of "insecurity".