Disabled families at High Court in housing benefit challenge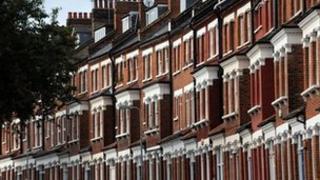 Disabled people and their families are challenging the government's decision to cut housing benefit for recipients living in properties deemed too large.
Lawyers for 10 families are at the High Court arguing the move - dubbed a "bedroom tax" by critics - will force them from their homes.
They say the changes discriminate against them because they need extra rooms to cope with their disability.
Ministers say their changes are legal and bring back fairness to the system.
About 660,000 working-age social housing households judged to have too many bedrooms have lost an average of £14 per week since their benefit was cut at the beginning of April.
'Desperately worried'
The 10 families, all disabled or the parents of disabled children, are challenging the changes during a three-day hearing.
Martin Westgate QC, appearing for the families, told the judges: "Each of the claimants has a need, because of disability, to occupy accommodation larger than that which would be allowed to them under the size criteria."
Outside court, BBC correspondent Michael Buchanan said Mr Westgate argued the properties had been given to the families by their own local authorities, who assessed them as "needing the spare bedrooms to live with their disability".
Mr Westgate said the new regulations undermined the government's stated aim of encouraging "localism", as although allocations had been made in recognition of their needs, restrictions from central government meant they could no longer afford the homes given to them.
One of the claimants, widower Richard Rourke, who uses a wheelchair, has had his housing benefit cut by 25% because he was deemed to have two spare rooms.
He says he has a disabled stepdaughter at university who stays in one of the rooms when she returns home, and that the second - a box room - is used for storing essential equipment, including a hoist for him and a shower seat.
Lawyers for the 10 will argue the benefit cut is discriminatory and violates the Human Rights Act and Equality Act.
They say the £25m the government has made available to help disabled people affected by the benefit cuts is insufficient.
"My clients are disabled children and their families who don't have a spare room," said one of the families' solicitors, Rebekah Carrier.
"Many families up and down the country are, like my clients, desperately worried about losing their homes."
'Fairness'
There has been fierce political argument about the new housing benefit rules, which supporters say withdraws a "spare room subsidy".
In the House of Lords on Wednesday, Welfare Minister Lord Freud was challenged about the rules, and told about the death of one woman who was said to have been worried about affording her home following the benefit changes.
Asked "how many people would have to commit suicide" before the government accepted that its policy was wrong, Lord Freud answered it was not appropriate for him to comment on the case.
However, he pointed out that discretionary payments were available for local councils to use in difficult cases. He said the government was "keeping a very close eye" on the housing benefit change.
The judicial review is going ahead after ministers lost an attempt to have the action thrown out last month.
A spokesman for the Department of Work and Pensions, which is responsible for the changes, said: "We are confident that these measures are lawful and they do not discriminate against disabled claimants or those with shared care of children."
He said it was "only right" to bring back fairness to the system and pointed out there were "two million households on the social housing waiting list and over a quarter of a million tenants... living in overcrowded homes".
The department said it is giving councils £150m to help vulnerable residents with the benefit changes.
Intended to reduce a £21bn annual housing benefit bill, the measure is also aimed at encouraging greater mobility in the social rented sector.