EU policy towards Africa is 'incoherent' warns Clegg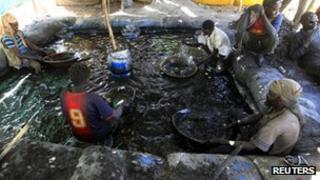 Europe must show more leadership to help ensure that economic growth in Africa is matched by social and political changes, Nick Clegg has said.
The deputy prime minister said EU policy towards the continent was often "incoherent" - in contrast with China's "clear and consistent" strategy.
He said as China "invested big", the EU must focus on securing lasting change as well as economic opportunities.
The UK recently had a row with South Africa over the end of financial aid.
The South African authorities said they had not been properly consulted about the decision to cease direct aid in 2015 - part of the UK's refocusing of its overseas aid budget - although the UK government said this was not the case.
Speaking at an event in London to mark the 50th anniversary of the foundation of the Organization of African Unity, Mr Clegg said the continent was being "transformed" and its influence on the global stage was increasing.
He noted that a quarter of African countries enjoyed economic growth of 7% or higher last year and that, for foreign investors, Africa was regarded as a "great continent of opportunity".
'Alternative approach'
But amid this progress, he suggested the EU needed to raise its game and provide an alternative model of partnership based on the principles of liberal democracy and open society rather than the "authoritarian capitalism" offered by China.
China has spent billions developing mining resources and building infrastructure across the African continent, creating jobs and wealth in the process.
But there are questions about its motivations and concerns Beijing turns a blind eye to corruption.
Mr Clegg said China and other world powers had a clear and consistent strategy in Africa. "China invests big. It invests fast in pursuit of clear economic objectives."
In contrast, he said he did not "feel the EU acts with the coherence and leadership which China deserves".
"I believe the EU could and should offer an alternative approach - one that can contribute to lasting success in Africa built on economic, political and social reform. Prosperity and stability in Africa and Europe are mutually reinforcing."
Changing relationship
The UK's relationship with Africa was evolving, he said, with increased focus on boosting trade, helping countries to raise and fairly share their tax yields and ensuring foreign firms' relationships with government were transparent.
He defended the UK's commitment to spend 0.7% of its national income on international aid - a move some Conservative MPs say cannot be justified at a time of austerity at home - but said support must be "properly targeted".
Mr Clegg acknowledged that legislation to enshrine this commitment in law had been left out of the government's legislative programme for the year ahead.
But he insisted: "I am pleased the coalition government in its deeds and actions will continue to meet our commitments abroad and our actions show we will not balance the books on the backs of the world's poorest."