Lord Ahmed resigns from Labour Party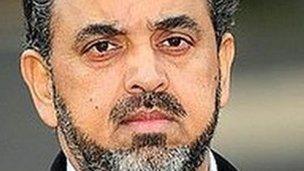 A peer has resigned from the Labour Party days before he was due to face a hearing after reportedly blaming Jewish-owned media organisations for his imprisonment for dangerous driving.
Lord Ahmed was due before Labour's ruling National Executive Committee on Wednesday over the alleged comments.
The peer - suspended by Labour in March while the party investigated - insists he does not recall making the remarks.
He said he was "very disappointed" with the way he had been treated by Labour.
The Times reported on 14 March that Lord Ahmed, who was jailed in 2009 for sending text messages shortly before his car was in a fatal motorway crash, had blamed Jewish-owned media organisations for his imprisonment.
The peer is said to have told an Urdu-language broadcaster in Pakistan that he should have been sentenced by a magistrate but pressure had been placed on the courts to charge him with a more serious offence because of his support for Palestinians.
"My case became more critical because I went to Gaza to support Palestinians. My Jewish friends who own newspapers and TV channels opposed this," the Times reported him as saying in the interview.
He said the judge who had sentenced him had been appointed to the High Court after helping a "Jewish colleague" of Tony Blair during "an important case", the newspaper added.
On 28 March he apologised "completely and unreservedly", telling the Huffington Post UK he could not "believe" it when he saw the Times reports of what he had said in the interview.
Lord Ahmed told the Huffington Post that he was not anti-Semitic and said he did not have "any explanation or excuse" for his comments. He later reiterated his apology to the Press Association.
Labour said at the time it "deplores and does not tolerate any sort of racism or anti-Semitism", and launched an investigation.
In his resignation letter, Lord Ahmed said he had made the decision with a "heavy heart".
He went on: "I do not recall when this interview was held, where this interview was held and nor the person who carried out this interview. All I know is what has been reported in the Times. I reject the core story that emerges out of the alleged interview."
Lord Ahmed said he and his lawyers had called for the Times to release the interview footage for it to be forensically examined.
"I believe that justice of the case demands that the film of the interview should be subjected to forensic test in order to search for the truth of the matter," Lord Ahmed wrote.
"This has been denied to me."
He added in the letter: "I am most concerned that the party which has freedom and justice as its core value and which I endear for decades is content to proceed against me on the basis of incredible and untested evidence.
"That indeed leads me to believe that the decision might have already been made."
He also said the apology published in the Huffington Post was made "without prejudice", and "to assuage any feelings of antagonism that may been created against me that if at any time I may have said anything inadvertently I wanted to apologise for that".
Lord Ahmed was jailed for 12 weeks in 2009 after sending and receiving text messages while driving.
He was freed by the Court of Appeal after serving 16 days of the sentence because of "exceptional" mitigation relating to his community work.
He had been involved in a fatal crash minutes after sending the messages on Christmas Day 2007.
The 55-year-old Pakistan-born businessman and Labour Party activist was appointed to the House of Lords by Tony Blair in 1998. He was one of the first three Muslim peers.