Defence equipment budget 'may be unaffordable'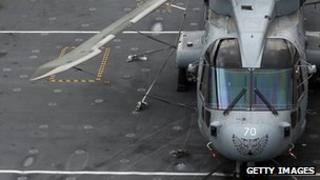 The UK may not be able to afford projected levels of spending on military equipment over the next decade, MPs are warning.
The Commons Public Accounts Committee said it did not "yet have confidence" the planned £159bn equipment budget between now and 2022 could be paid for.
It urged the Ministry of Defence to be a "more intelligent customer" when purchasing and agreeing delivery dates.
David Cameron has pledged to increase equipment budgets by 1% after 2015.
Equipment accounts for about 40% of defence spending and this is expected to rise to 45% by the end of the decade.
Ministers say they are getting to grips with the multi-billion pound black hole in procurement budgets they inherited from the Labour government.
As part of efforts to bring greater transparency to equipment spending, officials published in January a "fully funded and affordable" ten-year-plan for expenditure between 2012 and 2022.
Its central assumptions are underpinned by the government's pledge to increase equipment spending by 1% every year between 2015-6 and 2020-21 despite likely cuts elsewhere.
The Ministry of Defence's budget is being cut by about 8% between 2010 and 2014 and further cuts to defence spending after the next election are being resisted by Defence Secretary Philip Hammond, as well as Tory backbenchers.
'Good start'
The cross-party group of MPs said the coalition government had made "a good start" in dealing with historic over-spends and defence contracts which had dragged on for years.
But it said it was still concerned that future budget assumptions were "over-optimistic" and that risks - such as the cost of bringing back equipment from Afghanistan - had not been fully factored into calculations.
While the creation of a £4.8bn central contingency fund, in addition to £8.4bn "risk provision" for individual projects, was a "positive step", it questioned whether this would be large enough to absorb costs in the event of unexpected delays.
And it said hitting future targets was dependent on achieving savings elsewhere in the defence budget, including in the reduction in the number of serving personnel and civilian staff.
"The Ministry of Defence has made a good start in trying to get to grips with its budget but its deep-seated problems cannot be solved overnight," said Margaret Hodge, the Labour MP who chairs the committee.
"We do not yet have confidence that its equipment plan is affordable. This will depend on the Treasury delivering on its commitment to a 1% annual increase in the equipment budget in the next spending review."
She added: "£8bn of unallocated budget has been set aside for new equipment to improve capability but the cost of bringing back equipment from Afghanistan may be between £1bn and £2bn.
"If some of the £8bn is used to fund this, then there will be much less to spend on new kit."
'Financial mismanagement'
The committee also warned that the MoD continues to experience difficulties in delivering IT projects on time and budget and it was concerned the department did not have sufficient experience to hold contractors to account.
The Ministry of Defence said the cost of repatriating equipment from Afghanistan would be met by the Treasury's Special Reserve - traditionally used to pay for in-theatre operations - rather than the defence budget.
"The public accounts committee is right to acknowledge that it will take time to undo the consequences of years of over-promising and financial mismanagement by the last administration," said defence equipment minister Philip Dunne.
"We've already balanced the budget and are pressing ahead with plans to radically reform the way the MoD procures equipment for our armed forces."
Labour said it welcomed any progress but action was needed to "professionalise defence procurement, ensure contingency is sufficient and that industry partners deliver to targets for time and cost".
Labour defence spokesman Jim Murphy said: "Rather than posturing to the Conservative Party over Europe, the defence secretary should get to grips with defence procurement."