David Cameron 'to visit China this year'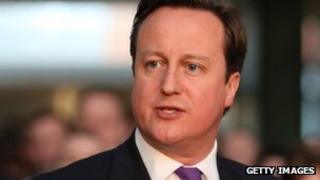 David Cameron aims to visit China this year, Downing Street has said, following reports the prime minister has been barred from the country.
Officials in Beijing are said to be angry that Mr Cameron met the Dalai Lama last year.
But Number 10 said no ban was in place and the government wanted to foster a "stronger relationship" with China.
Mr Cameron and Deputy Prime Minister Nick Clegg met the Dalai Lama at St Paul's Cathedral in London.
The Buddhist spiritual leader is seeking a measure of independence from China for his homeland of Tibet.
'Not pressure'
Mr Cameron's spokesman said: "It is entirely reasonable for the prime minister to decide who he meets.
"The Chinese government always lobbies hard against any meetings between foreign governments and the Dalai Lama. We have made clear in advance to the Chinese government that British ministers will decide who they meet and when they meet them."
Asked whether the prime minister felt under pressure from Beijing to apologise, his spokesman replied: "Not pressure, no."
Questioned over whether Mr Cameron was effectively banned from China, he said: "No. I believe the prime minister aims to go before the end of the year."
He declined to reveal whether dates for a proposed visit had been discussed, but said: "We regularly discuss issues of mutual interest and importance with the Chinese.
"The prime minister has recently had warm engagements with both the (Chinese Communist) party secretary and premier. Government ministers have had around 14 meetings with their Chinese counterparts since May last year."
The spokesman added that UK exports to China had grown more than those of any other EU country last year.
He said: "We want to establish a stronger relationship with China, recognising that it is in the interests of both countries to manage our differences with respect and co-operate as much as possible."
The meeting between Mr Cameron, Mr Clegg and the Dalai Lama had been part of the government's approach of seeking "dialogue and discussion and gathering a wide range of viewpoints on issues of importance", said the spokesman.
Mr Clegg told Sky News: "We have a very important economic relationship with them [China]. But that doesn't mean we should somehow give up on what we believe in when it comes to human rights and freedoms which we will continue to express in a respectful but nonetheless firm way."