Andy Burnham calls for ban on zero hours contracts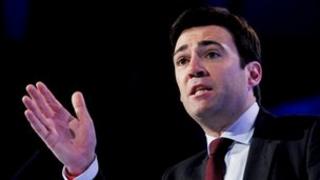 Labour should pledge to ban "zero hours contracts" at the next election, shadow health secretary Andy Burnham has said.
Mr Burnham praised his party leader Ed Miliband's proposal to reward firms for paying low paid workers more than the minimum wage.
But he said the Labour leader should "go further" and vow to ban so-called zero hours contracts as well.
Workers on such contracts are on call to work but can be given no hours and, as a result, no pay.
Speaking on the BBC's Andrew Marr Show, Mr Burnham hit back at claims Labour has no concrete policy ideas, saying "we are beginning now to set out our stall" ahead of the 2015 general election.
He is promoting his own plan to merge social care for the elderly and the infirm, often controlled by local authorities, with the NHS, which he says will save money and improve standards.
'Crude politics'
But he also said Labour had to do more to present itself as the "party of work".
The Labour leadership has faced criticism from Conservatives and even some within its own ranks for appearing to be on the side of benefit cheats and people who do not want to work.
Mr Burnham said: "The coalition have tried to take forward the benefits debate by dividing people between strivers and skivers.
"I think it's really crude and unpleasant politics. What Ed Miliband is saying is we have got to do away with that."
He said many people on benefits were in work, or did not get enough hours to work, which meant "we subsidise low pay in this country".
"A living wage could really help to address that and I would say to Ed, personally, go further and ban things like zero hours contracts.
"That is a Labour response to the debate about work and benefits."
'Living wage'
Ed Miliband told The Guardian on Saturday he wanted to offer tax breaks to persuade companies to pay more to low paid workers.
He said Labour would create special zones where businesses would be encouraged to pay the "living wage," which, according to campaigners, is £8.55 an hour in London and £7.45 in the rest of the UK.
The UK-wide minimum wage is £6.19.
Mr Miliband suggested firms could offered tax relief on training or capital investment, or lower business rates, in return for paying the living wage.
The proposal is being considered as part of Labour's policy review.
More than 200,000 British workers are on zero hours contracts, according to the Office for National Statistics.
The retail and finance sectors make the most use of such contracts but the practice is spreading to education, the public services and the NHS.
Labour MPs and trade unions say zero hours contracts strip workers of their rights and are exploitative.
They say employers are using them to avoid agency worker regulations, which entitle agency staff to the same basic terms and conditions as permanent employees after 12 weeks.
But the CBI says the UK's flexible labour market is crucial to economic recovery and the new agency worker rules are holding back growth.