George Galloway: Ed Miliband lied about meeting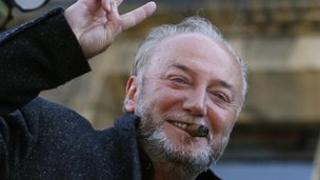 Respect MP George Galloway has accused Labour leader Ed Miliband of lying about a meeting between the two men.
Mr Miliband said he had met the MP to talk about a vote on boundary changes.
But Mr Galloway said this was "a lie" and called the Labour leader "an unprincipled coward with the backbone of an amoeba".
Reports of the meeting prompted rumours that Mr Galloway could rejoin Labour. Mr Miliband has denied this and says he does not want Mr Galloway to be an MP.
After 16 years as a Labour MP, Mr Galloway was expelled from the party in 2003 over comments he made on the Iraq war. Since then he has twice defeated Labour to win a seat in Parliament.
Reports of a meeting between George Galloway and Ed Miliband surfaced last week.
'Poor judgement'
Speaking on BBC Radio 5 Live, the Labour leader defended the meeting, saying he had met all the leaders of the minor parties, including Mr Galloway, ahead of a key Commons vote in January.
Labour, the Liberal Democrats and the minor parties teamed up to defeat Conservative plans to redraw constituency boundaries.
But in a tweet, Mr Galloway said: "Miliband's claim that he repeatedly pursued me for a one hour meeting about 'boundary changes' is, quite simply, a lie."
He added: "I realise now that I showed poor judgement in finally agreeing to meet Miliband. An unprincipled coward with the backbone of an amoeba."
It comes after more positive comments from the Respect MP.
On Wednesday he told the London Evening Standard that he found Mr Miliband "quite impressive, physically and intellectually" during an hour long meeting at the Labour leader's offices.
Mr Galloway said the Labour leader had told him "we should do this again".
He told The Evening Standard he wanted to see Mr Miliband as prime minister "the sooner the better" and would encourage his supporters to vote Labour in the forthcoming local elections where there is no Respect candidate.
The Labour leader rejected the MP's comments and denied that Mr Galloway would be rejoining Labour, telling the BBC: "I think George Galloway's views are awful.
"He might want me to be prime minister, but I don't want him to be an MP.
"George Galloway isn't coming back to the Labour Party. We want to defeat him at the next election in his Bradford West seat."
Pressed about reports that people within his party were unhappy about the meeting, Mr Miliband said: "I don't think people in my party are concerned. I think people in my party understand it.
George Galloway was a Labour MP between 1987 and 2003, until he was expelled from the party for comments he made about the Iraq war.
After co-founding the anti-war Respect Party, he won the seat of Bethnal Green and Bow at the 2005 general election.
He failed to be re-elected to Parliament when contesting a different seat in 2010, but succeeding in ousting Labour in Bradford West in a by-election in March last year.