Ed Miliband attacks Unite leader Len McCluskey's comments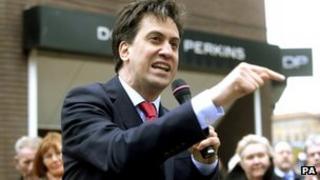 Ed Miliband has called the leader of Labour's biggest donor union "reprehensible", accusing him of seeking to "divide" the party.
Len McCluskey, general secretary of the Unite union, said Labour would be "cast into the dustbin of history" if it was "seduced" by supporters of Tony Blair.
Mr McCluskey did "not speak for the party", said Mr Miliband's spokesman,
The Labour leader was elected with union backing, but Mr McCluskey criticised several members of his team.
He told the New Statesman magazine that listening to figures such as shadow foreign secretary Douglas Alexander, shadow defence secretary Jim Murphy and shadow work and pensions secretary Liam Byrne, could lead to defeat, and urged Mr Miliband to go into the 2015 general election with "a team that he's confident in".
'Regrettable'
He said: "Ed Miliband must spend most of his waking hours grappling with what lies before him.
"If he is brave enough to go for something radical, he'll be the next prime minister. If he gets seduced by the Jim Murphys and the Douglas Alexanders, then the truth is that he'll be defeated and he'll be cast into the dustbin of history."
He added: "Liam Byrne certainly doesn't reflect the views of my members and of our union's policy,
"I think some of the terminology that he uses is regrettable and I think it will damage Labour. Ed's got to figure out what his team will be."
Mr McCluskey also said: "We believe that Ed should try to create a radical alternative. My personal fear, and that of my union, is that if he goes to the electorate with an austerity-lite programme, then he will get defeated."
But a spokesman for Mr Miliband said: "Len McCluskey does not speak for the Labour Party. This attempt to divide the Labour Party is reprehensible. It is the kind of politics that lost Labour many elections in the 1980s.
"It won't work. It is wrong. It is disloyal to the party he claims to represent."
'Party with answers'
Mr Murphy took to Twitter to criticise the union leader, saying: "It's disappointing in advance of important local elections that Len McCluskey turns his fire on Labour."
Shadow chancellor Ed Balls insisted that Labour was "absolutely united" and said "nothing will be allowed to get in the way of that unity".
He said the party was determined to win the next election, adding: "We will not allow division and disunity to get in the way of that purpose. It's happened in past decades - it's not going to happen this time."
Earlier this month, former prime minister Tony Blair warned Mr Miliband against the return of the "familiar old left/right battles", of the kind that dominated British politics before he moved the Labour Party on to the centre ground.
In an article for the New Statesman, he said Labour was "back as the party opposing 'Tory cuts'" and in danger of becoming a "repository for people's anger" rather than a party with answers to the country's problems.
Mr Miliband said he took Mr Blair's comments seriously but the party was "moving on and moving forward".