Labour calls for Aricultural Wages Board not to be abolished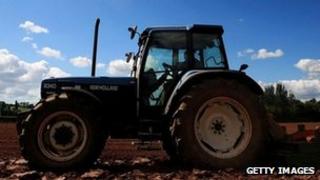 Abolishing the Agricultural Wages Board will result in the "under-cutting" of British labourers by foreign workers, Labour has warned.
In a Commons debate, ministers said the quango, which sets rates of pay for labourers and managers, was obsolete and wasteful.
But Labour argued that getting rid of it would lead to a "race to the bottom" over wages.
The board sets pay levels for 153,000 workers in England and Wales.
Established in 1948, it ensures that employers provide a bed and drinking water, as well as holiday pay.
It will be abolished if the Enterprise and Regulatory Reform Bill gains Royal Assent in its present form.
Labour brought a debate on the issue, with shadow environment secretary Mary Creagh saying: "We don't want to see either a race to the bottom on wages or a great increase in the amount employers charge workers for their tied accommodation, for their hot bed in a caravan, which would mean they would end up effectively working for below national minimum wage and under-cutting British workers out of the market."
She told MPs workers would "see their wages eroded over time".
Conservative James Paice, a former agriculture minister, said there was no "evidence" to back up this assertion, but Ms Creagh insisted the abolition of the board would take money "out of workers' pockets".
Ministers say that, with the minimum wage already in place, there is no need for the board, and that closing it will cut public spending at a difficult time for the economy.
Environment Secretary Owen Paterson told MPs: "This is the last throwback to an era where these councils did a worthy job in those days, but we have a free and expanding market and demand for labour in the countryside and I am absolutely confident that wages will be well above those set by the AWB.
"It's not a question of 'if'. Wages are now well above those levels."
But Liberal Democrat MP Andrew George said it was a "regrettable" decision by the government which would see damage to the terms and conditions of agricultural workers.