EU must not dictate railway planning, say MPs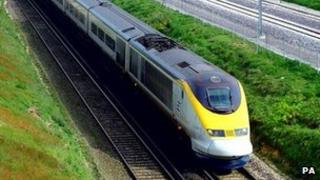 The European Union should not "dictate" who is responsible for planning railway services in the UK, MPs have said.
Under plans to be considered by the European Parliament, track types and signals would be standardised, with operating companies separated from firms running infrastructure.
The European Union (EU) says this will speed up services and save money.
But the Commons Transport Committee has warned against companies becoming "unduly restricted".
The European Commission says a lack of standardisation of track and signals in member states is hampering services and wasting money. It wants to create a Single European Railway Area.
In its Fourth Railway Package, published in January, the commission set out plans for reforms that would make it easier for operators from around the continent to use the same track, increasing competition.
'Concerns'
It acknowledged that different infrastructures, set up mostly on a national level, were likely to remain "natural monopolies", as there were no possible alternatives.
But there should be no such restriction on train operators, it argued, saying that, to enable competition, tracks and signals had to be standardised across the EU.
So the commission recommended the separation of infrastructure and train operators.
Failure to separate the two would "hinder the development of long-distance pan-European services", it said.
The UK already has this separation, with Network Rail running tracks and signals, and other companies providing trains.
But the idea is more controversial in countries such as France and Germany, where this is not the case.
Immigration
The report by the Commons Transport Committee welcomes the idea of liberalising services.
However, it raises "concerns" that joint working between Network Rail and train operators should "not be prohibited or unduly restricted".
The MPs are also seeking assurances over the "governance arrangements for Eurotunnel" and "the definition of the authorities which can let train franchises".
The report says: "We are not persuaded that the legislation should dictate the responsibilities for the drafting of public transport plans.
"Such responsibilities should be for national (or local) governments to decide. We expect the government to negotiate actively on these points and keep us informed of progress as discussions continue."
The committee also accuses the commission of failing to find a "solution" to enable the speeding up of immigration controls affecting cross-border passenger and freight services.
Until then "operators will remain sceptical about the potential to extend international rail services", it adds.
The committee's chairman, Labour MP Louise Ellman, said: "Proposals to encourage cross-border rail have widespread support but could be put at risk by measures to liberalise domestic rail markets that are likely to be strongly resisted elsewhere in the EU and won't significantly affect the UK."