Eric Pickles amends home extension plans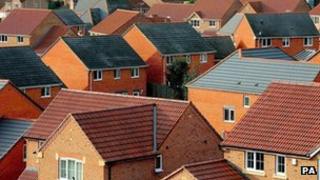 Government plans to ease planning rules in England for three years have been amended to give neighbours the right to be consulted on building work.
It comes after 26 coalition MPs - 16 Conservatives and 10 Lib Dems - voted against the government on Tuesday.
Communities Secretary Eric Pickles has written to MPs setting out a "light-touch neighbours' consultation scheme".
He said he wished to tackle "head on" concerns about the effects the plans would have on "neighbours' amenity".
The amendment will be debated in the House of Lords when the Growth and Infrastructure Bill returns there on Monday.
The Conservative MP Zac Goldsmith - a leading critic of the government's proposed changes - welcomed the watering down of the plans, calling it a "sensible approach".
Boost trade
Ministers announced last year that they wanted a three-year relaxation of the planning rules to allow single-storey extensions of up to eight metres for detached houses and six metres for other houses to be built without planning consent being required.
They argue that this will bring economic benefits and boost the building trade.
The proposal, which is still under consultation, has angered some local authorities and is also opposed by Labour.
MPs are concerned the plans may result in permanent unsightly developments, over which local communities will have no say.
Under the revised scheme, as set out by Mr Pickles, homeowners wishing to build extensions under the new powers would notify their council with the details and the local authority would then inform the adjoining neighbours.
If the neighbours do not object the development can proceed, but if they do raise concerns the council will have to consider whether it had an "unacceptable impact on neighbours' amenity".
Mr Pickles said this would allow ward councillors to be involved.
The application could also be considered by a planning committee - as is the case in the current planning process - if the council deemed it appropriate, he added.
'Serious questions'
He said the approach would build consensus, ensure uncontroversial projects were fast-tracked and save householders money.
He told MPs: "I hope this shows that we have listened constructively and made a targeted and common sense improvement."
Mike Jones, chairman of the Local Government Association's Environment and Housing Board, said they were pleased the government was "listening".
"However, there are serious questions to be answered as to how this new separate scheme will work in practice," he said.
"Government needs to clarify how this new scheme, which will require planning departments to dedicate a significant amount of time and resources, will be paid for at a time when local authorities are already facing significant cuts to their budgets."
Mr Goldsmith, MP for Richmond Park, said: "The red line for me was maintaining a neighbour's right to object.
"The government has taken on board what we said, they've very definitely listened."
But Conservative MP Bob Blackman warned there were "risks associated" with handing power over some planning decisions to the local councillors responsible for a ward.
Mr Blackman, a member of the Communities and Local Government Committee, welcomes the amendment but says he has concerns.
He told the BBC: "There is a danger of allegations of corruption, as well as the risk of inconsistent decisions from one ward to the next."