Migration: Theresa May abandons 2015 exit-check target, says Labour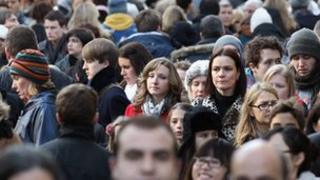 Home Secretary Theresa May has abandoned a pledge to reintroduce identity checks on everybody leaving the UK by 2015, Labour says.
Exit checks are seen as vital if the UK is to combat illegal immigration.
But Mrs May has now told MPs they are tied up with the troubled "e-borders" scheme, which could take a further three years, or more, to fully set-up.
The Home Office insists the coalition's commitment to introducing exit checks by 2015 is still in place.
But Keith Vaz, chairman of the Home Affairs Committee, said he did not see how this would be possible without e-borders. He has asked the home secretary to clarify her position.
Launched by the previous Labour government, the £750m e-borders project was designed to collate and store on a single database information on all passengers who enter and leave the UK.
'Taking time'
But it has been beset by delays and technical problems.
"By now, after three years of this government, we should have an e-borders programme," Mr Vaz told the BBC News website.
The Labour MP said reintroducing exit checks, abandoned in stages by previous Conservative and Labour governments, was essential to prevent people entering the country on short-term visas and overstaying.
Without exit checks "we absolutely don't know who is in the country", added Mr Vaz.
Grilled earlier by Mr Vaz's committee, Mrs May said: "We are moving towards the implementation of exit checks. That is taking time.
"It is part of the e-borders strategy but we have a commitment to do that and that will not be in place, fully in place for a number of years yet. We're talking two, three years.
"We're not talking about 10 years in relation to the e-borders strategy."
Her comments were seized on by Labour.
'Unsure'
Shadow home affairs minister Chris Bryant said: "Yet another coalition promise bites the dust - and the home secretary doesn't even seem to understand her own policy.
"They have failed to get proper entry-clearance processes in place and now they seem completely unsure on when they will have a full e-border system in place so that they can count people out of the country.
"They can make as many overblown speeches on immigration as they want, but if they don't get the basics right they stand no chance of tackling the problem of illegal immigration and over-stayers."
E-borders began collecting details of passenger and crews for inbound flights from outside the EU at nine airports in March last year.
The plan is to extend it to ports and railway stations by 2014 and to passengers from within the EU by 2015.
Mrs May told the committee e-borders currently screens over 65% of passenger movements into and out of the UK - but Keith Vaz and other critics say progress has stalled.
In 2010, the coalition sacked Raytheon, the US company hired by Labour to deliver e-borders, over its "extremely disappointing" performance.
The contract was split in two, with IBM and Serco given the job of getting a system in place at nine airports before last year's Olympics.
But, according to Keith Vaz, the current status of the project is shrouded in mystery.
Mark Sedwill, the top civil servant at the Home Office, is expected to be quizzed about the issue when he appears before the Home Affairs Committee in two weeks.