Defeat possible on home extension plan, warns MP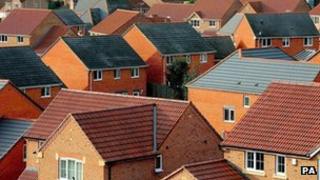 Ministers are facing defeat on plans to double the maximum size of home extensions if they fail to compromise, Tory MP Zac Goldsmith has warned.
Communities Secretary Eric Pickles wants to ease planning rules in England for three years to boost construction.
But after coming up against opposition from coalition MPs, he has promised to set out a "revised approach".
Mr Goldsmith said MPs would "easily vote down" any new proposals if they were not acceptable.
Ministers announced last year that they wanted a three-year relaxation of the planning rules to allow single-storey extensions of up to eight metres for detached houses and six metres for other houses to be built without planning consent being required.
'Broad consensus'
They argue that this will bring economic benefits and boost the building trade.
The proposal, which is still under consultation, has angered some local authorities and is opposed by Labour.
On Tuesday, 26 coalition MPs - 16 Conservatives and 10 Lib Dems - voted against the government by backing a House of Lords amendment stipulating that individual councils should be given the right to opt out of the temporary planning rules changes.
MPs are concerned the plans may result in permanent unsightly developments, over which local communities will have no say.
The rebellion was not big enough to defeat the government, but Mr Pickles said he had listened to the concerns of peers and MPs and said he believed "a broad consensus" could be established.
He promised to bring forward a new approach, which will be debated in the House of Lords when the Growth and Infrastructure Bill returns there on Monday.
Mr Goldsmith, a leading critic of the plans, said: "Many MPs abstained or supported the government in the vote yesterday (Tuesday) because of its promise to introduce a fresh amendment, and given the very clear strength of feeling on both sides of the House, it will have to be a good one, or it will very easily be voted down.
"On balance, I think it's a good result and the government will genuinely rethink this policy."
'Workable proposals'
It is not yet clear what the compromise will look like, although discussions are under way between planning minister Nick Boles and the rebel MPs.
It is understood ministers will have to table an amendment setting out their new approach on Thursday if it is to be debated in the Lords on Monday.
Stewart Jackson, who voted against the government, told the BBC: "Ministers are in contact with those of us who have expressed reservations and are actively seeking a way forward before tomorrow (Thursday) when they will have to table an amendment in the Lords.
"We're giving ministers the benefit of the doubt and believe they will come back with workable proposals."
Mr Goldsmith has said he would back an amendment that would allow the proposed extensions to go ahead without planning consent, but only if neighbours did not object.
If they did, the normal planning process should be allowed to kick in, he says.
The issue was raised by shadow Commons leader Angela Eagle who accused the government of not being able "to organise a concession in a conservatory".
Commons Leader Andrew Lansley replied that the government remained committed to the plans which should be supported because it gave people the chance to develop their own homes.
He added that the further discussions were intended to make sure it was done in a way which took into account some of the concerns raised.