Promote more linguistic experts or risk credibility, Foreign Office told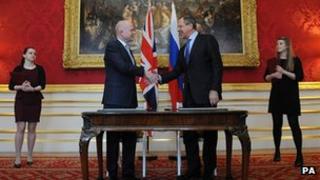 The UK risks losing credibility if more senior diplomats are not fluent in a range of languages, MPs are warning.
The Commons Foreign Affairs Committee said linguistic abilities should be given more weight in promotion criteria, including to top jobs, as this would "command respect" abroad.
The Foreign Office is reopening its language school, which closed in 2007 and has increased funding for courses.
But MPs said more resources should be allocated to incentivise staff.
The cross-party committee said a number of former ambassadors had stressed the importance of speaking the local language when posted abroad, one suggesting any downgrading of linguistic competence would be a "terrible mistake".
'Lack of fluency'
In a report on the Foreign and Commonwealth Office's performance last year, the committee said promotions to different grades in the Diplomatic Service were judged on the basis of general competencies, including leadership and management abilities.
While these skills were important, MPs said the department should consider changing its promotion criteria to emphasise linguistic abilities more.
"For some posts, a lack of fluency in the local language will limit the credibility of the post holder," it said.
"The risk in relying upon promotion by general competency, which excludes technical competencies such as language skills, is that it may not provide the upper echelons of the Diplomatic Service with an adequate supply of staff who have all of the skills and credibility needed to command respect in key postings."
In response, the Foreign Office said languages were a vital factor in selecting diplomats for overseas postings and were taken into account in all senior appointments. The budget for language training has risen from £3m in 2010-11 to £3.9m in 2011-12, it added.
"We are reopening a language school in the FCO that will train up to 1,000 staff a year," Foreign Secretary William Hague said.
"We have increased the FCO's spending on language training by 50%. And as a result of the changes we have introduced we will have 40% more speakers of Mandarin and Arabic in our posts overseas than in 2010, and 20% more speakers of Latin American Spanish and Portuguese."