Labour must offer voters solutions, says Lord Reid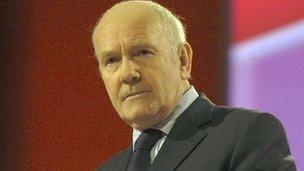 Labour must offer "solutions" to voters' problems if it is to be seen as an "effective party of government", ex-Home Secretary Lord Reid has said.
He said leader Ed Miliband had to "set out the direction" on issues such as housing, welfare and the economy.
And another former Labour Home Secretary, David Blunkett, has warned the party against building a "politics built on grievance".
But Mr Miliband has insisted he is setting out a "vision for the future".
Labour currently holds opinion poll leads over the Conservatives, but in recent days some prominent figures have questioned the direction of Mr Miliband's leadership.
Former Prime Minister Tony Blair said the party should not simply become the "repository for people's anger" against the coalition's spending cuts.
Mr Blunkett, a close ally of Mr Blair, argues in an article for the Observer that Mr Miliband's stated aim of making Labour a "one-nation party" should be "about a great deal more than politics built on grievance and the unhappiness of a resentful and selfish public sphere".
It should also be "more than putting right the playing-off of public sector workers against those in private enterprise", he adds.
Labour is carrying out a series of policy reviews ahead of writing its manifesto for the next general election, in 2015.
At the last election, in 2010, the party had its worst showing since 1983.
Speaking on BBC One's Sunday Politics, Lord Reid said Labour had to "move from being a voice of protest to being a voice of solutions, as we move from being an effective opposition to an effective party of government".
He said the party should "set out the direction of a future Labour government on questions like welfare and the economy and housing and so on".
Lord Reid said there was a "sense that that's started to happen", but added: "It's important to recognise that we need solutions and not just criticise the status quo."
Mr Miliband should adapt Labour's "values" to "modern circumstances", he argued.
However, Lord Reid admitted that much of Mr Miliband's work in setting out a clear position and direction would remain difficult until the party got back into government, saying: "The proof of the pudding is in the eating, as Blair, Thatcher and other great leaders have shown."
Following Mr Blair's comments, Mr Miliband said the party was "moving forward" but said the previous Labour government had "got some things wrong" and that he wanted to "assess where it got things wrong, listen to the electorate and sketch out a different vision for the future".