Iain Duncan Smith: Benefit cap to hit fewer households than expected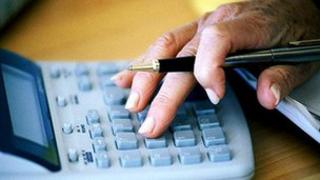 The number of households that will be affected by a new £500 a week benefit cap has fallen by over a quarter, the Department for Work and Pensions says.
The government initially estimated that 56,000 households would see their benefits reduced by the policy, losing on average around £93 per week.
It now expects 40,000 households to be affected.
The department said the change came as more people sought help to get into work.
The policy was expected to save £275m a year when the original figure was announced. It now expects to save £110m.
The lower figure does not mean the taxpayer is £160m worse off.
The government says JobCentre Plus has already moved 8,000 people in households that would have been affected by the cap into work. So that saving in benefit payments, and potential extra tax revenue, falls in this year.
They are arguing - in effect - that the policy is having a positive impact before it is put into place.
'Strong incentive'
Work and Pensions Secretary Iain Duncan Smith said: "The benefit cap sets a clear limit for how much support the welfare state will provide - the average wage for working households.
"But it's also a strong incentive for people to move into work and even before the cap comes in we are seeing thousands of people seeking help and moving off benefits.
"We have a very clear message: we will provide support to those who need it, but the days of outrageous claims giving people incomes far above those of working families are over."
Total welfare payments will be limited to £500 per week for couples and single parents and £350 per week for single people without children.
It means workless households will not receive more in benefits than the average earnings of working households.
The government has revealed it is to spend an extra £2m trialling the cap.
Benefits bill
The four London boroughs that will begin introducing the cap on Monday - Haringey, Bromley, Croydon and Enfield - will receive the money to cover extra administrative costs.
Just under half of the households expected to be affected are in London.
A DWP source suggested some councils may face the prospect of re-housing residents in other boroughs not yet covered by the cap.
Ministers say the rise in the amount spent on working age benefits must be slowed.
The DWP says around £90bn was paid out in benefit payments to people of working age and their families in 2009/10.
Last month, Mr Duncan Smith said welfare levels were not in fact being cut and those on benefits would see cash increases in every year of this Parliament.
He said the growth in the benefits bill was being managed at a lower level.
The government originally planned to introduce the cap across Great Britain by April 2013.
Shadow work and pensions minister Stephen Timms said Labour would "get the welfare bill down by getting the country back to work, and making work pay".
The party is proposing a "compulsory jobs guarantee" to get the long-term unemployed into work.