Ebay auction of Andrew Mitchell's 'plebgate row' bike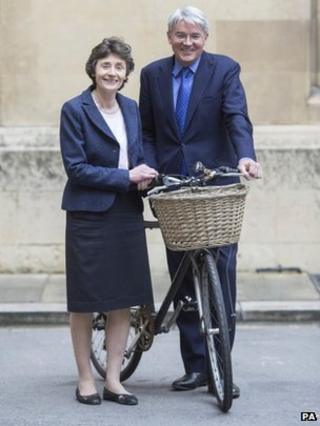 The bike at the centre of the "plebgate row", which cost a cabinet minister his job, has gone on sale on eBay.
Former chief whip Andrew Mitchell is selling the Reflex Westminster bike - wicker basket included - for the charity Nyumbani UK.
The auction will last another four days - and bids currently stand at £1,020.
Mr Mitchell denies calling officers "plebs" when they refused to let him leave Downing Street on his bike via the main gate last September.
He resigned from his cabinet post in October after a media backlash.
Detectives are investigating claims that police may have lied about the dispute, and four people have been arrested.
As advertised on the auction site, Mr Mitchell's seven-year-old hybrid bike is "sturdy" with a blue frame.
It comes complete with front basket, lights, horn, gears, pannier rack and mud guards, and is "still in perfect working order".
"[It] has been a regular commuter to and from the House of Commons over the years with numerous journeys to the Department for International Development and Number 10 Downing Street," the entry says.
But, it adds: "It is looking for a good home out of the limelight for its retirement years".
Mr Mitchell, who is also a former international development secretary, will give the money raised by the bike's sale to Nyumbani UK, which supports people with HIV and AIDS in Kenya.