Dangerous dogs: Government to act on attacks on private property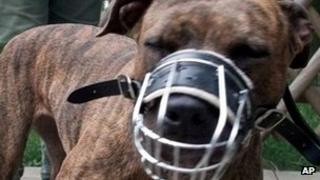 Dog owners in England and Wales will no longer be immune from prosecution for attacks on their own property under new proposals from the government.
People could face a two-year jail sentence if their animals are found to be "dangerously out of control" in their own or others' homes.
Existing laws only cover attacks in public places and prohibited areas.
The move follows public outcry over the death of 14-year old Jade Anderson who was mauled by dogs last month.
Police currently have no plans to prosecute anyone in relation to her death, which occurred in a private home in Atherton, Wigan, saying there is no evidence a crime has been committed and they are bound by the law.
More than 2,000 people have signed the Justice for Jade e-petition, which calls for laws "to make dog owners accountable" for attacks on their property.
The laws covering dangerous dogs have long been controversial. Legislation introduced in 1991, prohibiting ownership of certain types of animal and allowing for mandatory destruction orders, was subsequently heavily criticised as being unfit for purpose.
The Dangerous Dogs Act introduced an offence of being the owner of a dog that was dangerously out of control in a public place or a "non-public place in which it is not permitted to be".
'Brought to justice'
Ministers believe more needs to be done to tackle irresponsible dog owners and increase public safety but their approach was attacked as "woefully inadequate" by a group of MPs earlier this year.
The government has now published draft proposals, which would see owners prosecuted if they failed to prevent their animals attacking others in their own home or someone else's property. If convicted, they could face a custodial sentence of up to two years or an unlimited fine.
"Out-of-control dogs are just as much a threat on private property as in public places," said animal welfare minister Lord de Mauley. "We are extending the law so that owners who allow their dogs to be dangerously out of control anywhere can be brought to justice."
Prosecutions could also be brought for attacks on guide dogs and other assistance dogs which ministers say can have a "devastating" effect on their owners' independence and quality of life.
Under government plans, there will no protection for burglars and other trespassers who enter someone's property uninvited and are attacked.
However, the courts would be able to consider the character of a dog owner among other factors when deciding whether a banned breed should be exempt from destruction.
When a banned breed is identified, owners can apply for it to be saved but, at the moment, courts can only take into account the temperament and past behaviour of the dog when deciding its future and not the actions of its owner.
'Major loophole'
Unions representing postal, utility and delivery staff have long argued for laws to be extended to cover attacks in dog owners' homes, saying this is a "major loophole" in the law and their workers - as well as others - need more protection.
According to the CWU postal union, 23,000 postmen and women have been attacked by dogs in the last five years, with as many as 70% of these attacks taking place on private property.
Unions have expressed concern that there was no specific timetable for implementing the new proposals and that they would not be as tough as those already in place in Scotland and Northern Ireland.
Local authorities there are able to issue dog control notices at the first sign of trouble in an effort to deal with animals before they become a danger to the public. Owners can be ordered to leash or muzzle their dogs and to take training courses.
"While we welcome the publication of draft clauses to extend the law to private property - which is a longstanding loophole leaving thousands of dog attack victims without recourse in law - there is still no timetable for the implementation of this change," said CWU general secretary Billy Hayes.
"The government is showing little urgency in bringing these legal changes forward. For every day of delay, 12 postal workers are being attacked and we have now seen 15 people killed by dogs in recent years. Change cannot come soon enough."
The government said it wanted the proposals to be introduced as soon as possible and one option was to include them in the anti-social behaviour bill, published in draft form in December and which is currently being studied by MPs.