Mandela death: How the British political class came to love Nelson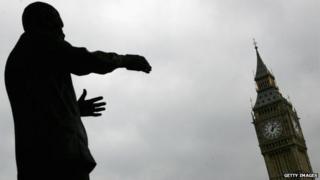 He first came to Britain as a wanted man.
Nelson Mandela would, in the end, be honoured at Westminster like no other politician.
There have been few figures whose public approval, whose mere handshake, became so coveted by British leaders.
In his autobiography, Mr Mandela recalled joking with fellow ANC leader Oliver Tambo during a 1962 visit to London that their statue might one day stand near Westminster Abbey. He lived to see his statue unveiled.
It was during this visit that he met the Labour leader Hugh Gaitskell and Liberal leader Jo Grimond.
There was no audience with the Conservative Prime Minister Harold Macmillan.
'Cloud cuckoo land'
Mr Mandela was under cover and afraid news of his presence might leak to the South African security forces.
He hoped, he said, to obtain literature on guerrilla warfare that he could not get elsewhere.
With mixed emotions he also saw the sights; Westminster Abbey and Big Ben.
This was the heart of what had once been the colonial power.
"While I gloried in the beauty of these buildings," he wrote, "I was ambivalent about what they represented."
The attitude of the British government towards Mr Mandela changed utterly over his lifetime.
Margaret Thatcher called the ANC a "typical terrorist organisation" at a 1987 press conference in Vancouver. She resisted sanctions against South Africa, arguing apartheid should be dismantled "by negotiation" and sanctions would be counterproductive.
She is often quoted as saying anyone who believed South Africa would be run by the ANC was living in "cloud cuckoo land".
However, the Foundation that preserves her documents says this is apocryphal, attributing a similar comment to her press secretary Bernard Ingham.
Mrs Thatcher and Mr Mandela eventually met after his release in 1990.
'Mandela is a terrorist'
Mr Mandela would later say the UK became, in many respects, "the second headquarters of our movement in exile".
Demands that he should be released from prison were often made most vocally in Britain.
But not everyone supported the campaign.
Complaining in 1988 about BBC plans to broadcast a concert marking Mr Mandela's 70th birthday, Conservative MP John Carlisle said: "Mandela is a terrorist who was committed to jail in South Africa 26 years ago. He can walk out of jail any time he wants to, provided that he renounces violence against the state."
During the Cold War, though, there were wider concerns.
The anti-apartheid campaigner and former Labour cabinet minister Peter Hain said: "The ANC had the support of the communist world because the West wouldn't support it, with the exception of the Scandinavian countries like Sweden.
"So, many countries in the west, including Britain and the United States, almost saw Nelson Mandela and the ANC as agents of communism. Palpable nonsense, but that was the way it was seen."
Paying tribute
When he became Conservative leader, David Cameron chose to meet Nelson Mandela and state publicly that his party had been wrong on the ANC and sanctions.
By then everything had changed. Politicians from all sides assembled to pay tribute when Mr Mandela addressed both houses of Parliament in 1996.
There, Mr Mandela paid tribute to the Tory who was prime minister during his surreptitious first visit, recalling Harold Macmillan's 1960 Cape Town speech which warned that a wind of change was blowing through Africa, distancing himself from apartheid and signalling a coming decolonisation.
It was Labour, though, that was able to bask in the full glow of Mr Mandela's approval.
In 2000, he even spoke at the party's conference.
Seven years later Gordon Brown and Labour's then London Mayor Ken Livingstone unveiled Mr Mandela's statue in Parliament Square.
By then British politicians were universal in their acclamation.
But it was not always that way.