Minster Andrew Robathan's fury over faulty replacement hips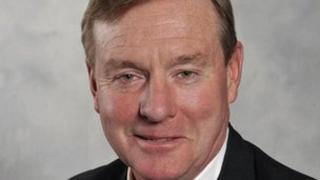 An MP has spoken of his anger at faulty replacement hips which have left him in agony and needing two operations.
Andrew Robathan says he intends to sue De Puy, the US makers of the metal joints, which were the subject of a worldwide product recall in 2010.
The Tory MP and defence minister has developed a non-cancerous tumour at the top of his leg, which his GP believes is linked to the metal hips.
De Puy have offered to pay for new hips for all those affected by the product.
About 10,000 people in the UK had the ASR hips fitted before the company recalled them in 2010, after tests raised concerns about potentially toxic metal filings getting into the bloodstream.
'Good hammering'
"It is not like a recall of a fridge or a car. It is a bit more difficult than that," says Mr Robathan, a former member of the Coldstream Guards.
"They are quite long and unpleasant operations.
"I am quite capable of looking after myself but a lot of these devices went to older people, in quite difficult situations, who may find it more difficult than me to take action."
Mr Robathan had both his hips "resurfaced" in 2006, at the age of 54, after wear-and-tear on his joints caused by his time as a paratrooper in the special forces.
"I had worn out my cartilage, partly because I had given them a good hammering in the army for the best part of 20 years," he says.
His NHS surgeon recommended the ASR hips, as they were designed for relatively young people who lead active lives.
At first the operations seemed to have worked well, but by 2011 he was in severe pain, had difficulty climbing stars and was unable to stand for long periods.
'Appropriate decision'
He said he was prepared to accept the fault with the ASR hips until he discovered a British surgeon, Derek McMinn, inventor of the widely-used Birmingham hip resurfacing system, had warned about potential problems with them in 2005.
"What makes me angry is that there were warnings about this component a year before I had my operation. They were warned that they would fail and they continued marketing them until 2010," says Mr Robathan.
De Puy, a subsidiary of US multinational Johnson and Johnson, is being sued by more than 100 people in the UK over ASR replacement hips.
About 93,000 people around the world are ASR patients.
A De Puy spokesman said he could not comment on the McMinn study but the product had been thoroughly tested and peer-reviewed prior to launch and had met EU standards.
"At every step of the way, the company carefully considered the data on ASR and actively engaged with surgeons about their general feedback on the ASR system," he told BBC News.
The company believed the product was performing well until August 2010 when it "received new information from the National Joint Registry of England and Wales reporting that 12% of ASR resurfacing patients and 13% of ASR Total Hip Replacement patients were undergoing second hip replacement surgery sooner than expected".
"We believe we made the appropriate decision to recall at the appropriate time given the available information," the spokesman added.
He said the company "regrets that the ASR Hip System did not perform as expected for some patients, and we understand the voluntary recall has been concerning for ASR patients and healthcare providers".
But De Puy was "committed to working with patients and hospitals to address medical costs directly associated with the recall," as well as patients' lost wages and travel costs.
The spokesman advised concerned patients to call the company's helpline on 0800 2794865.