UK energy industry leader warns that lights could go out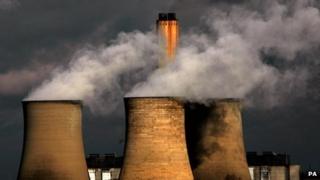 This will be of little comfort. After one of the coldest springs on record, the cost of keeping your home warm is going to increase.
And not just this spring, but for many more springs to come.
Even the government accepts that.
"Global gas price hikes are squeezing households," admitted Ed Davey, the Energy and Climate Change Secretary of State. He's one of the influential Liberal Democrats in the coalition.
"They are beyond any government's control and, by all serious predictions, are likely to continue rising."
So what's the answer? Ed Davey claims our domestic fuel bills are already an average of £64 less because of a raft of energy and climate change measures already introduced. Think solar panels. Think wind farms. Think the government's so-called Green Deal.
But one leading figure in the energy industry has issued a warning to the government. She's Angela Knight, appointed last year as chief executive of the industry's trade body Energy UK.
She questions the government's decision to close UK coal-fired power stations when renewable energy - especially wind power - has yet to plug the energy gap.
"If we are shutting down so many and haven't got a timetable to rebuild, we are heading for a very difficult pinch point," she said.
"That's why I want the Cameron government to focus on this problem.
"We can't shut down without opening up. If the lights go out, that would be a complete disaster."
Those comments will be welcomed by the country's coal industry and by the operators of the UK's coal-fired generators.
As a former Treasury minister in John Major's government, Angela Knight understands how public policy is shaped. She was also the MP for the Derbyshire marginal seat of Erewash and appreciates the historic and cultural links with coal in the East Midlands.
"Are energy prices going up and will they going to continue to go up? Yes. Why? Because we are dependent on the world price of gas, which is increasing, and we are shutting down our coal-fired power stations," she added.
"Coal produces 40% of our electricity and it's cheap.
"But we've got an emissions directive that is going to shut down a quarter of our coal-fired powers stations before 2020. Why are we closing them down?"
Angela Knight gives two reasons: EU directives on emissions are difficult to meet with so many coal-fired stations.
Legally bound
There's also a domestic political reason.
"In 2008, the Labour government put the targets into law and we have to legally meet standards against a timetable that is extraordinary quick."
"By 2020, we are legally bound to get 15% of our total energy from renewables. In effect that's translated into meaning 30% of all electricity production by 2020 have got to be produced by renewables."
She has an app on her iPad which shows how much power is generated for the national grid from the UK's renewables.
"Renewables sometimes work. Sometimes the wind blows."
"Sometimes, we can produce about 10%. But my little app tells me we are producing just 3% from renewables today."
I met Angela Knight when she was back in Nottingham to address senior city Tories. She knows that any 'knocking' copy against the EU or wind farms will get a receptive hearing.
"How much are households prepared to pay for shutting down power stations because they thought 'going green' was touchy feely?" she told her audience.
Is shale gas an answer? Former coal field areas are thought to be rich in gas deposits deep underground. But extracting that gas through fracking - using high pressure water to fracture the rock - is controversial.
"Shale gas is going to be tricky to get at," she admits.
"But if we don't start looking now, we won't be able to determine how much there is."
Angela believes energy policy is forcing itself to the top of the political agenda. A recent survey of MPs showed they now regard the issue as important as crime and education.
With ever-rising domestic fuel bills, she wants a public debate on future energy policy. Any call for a public debate is usually a sign that the policy consequences could be rather unpalatable.
As Angela reminds her audience, the alternative is the lights going out.