Miliband joins list of political 'nearly men'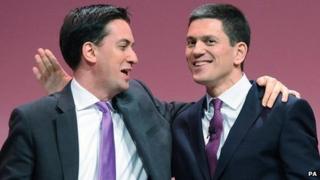 Less than three years ago David Miliband was favourite to become the next Labour leader, then he lost to his brother. Now he is leaving politics. Why did he not quite make it?
It is, bluntly, either win or lose. And the margins between one and the other can be vanishingly small.
For Ed and David Miliband, in their race to be Labour leader, it came down to 1.3%.
49.35% for David, the loser, and 50.65% for Ed, the winner.
Ed now hopes that, one day, he will be asked by the Queen to form a government.
Opportunities
For David, it is a Crown appointment of a different kind: as the Steward and Bailiff of the Three Hundreds of Chiltern or the Steward and Bailiff of the Manor of Northstead, holders of which cannot sit in Parliament.
One brother hopes to run the country, the other is leaving the country.
David Miliband arguably had three opportunities to grab the prize he eventually so narrowly missed out on.
In July 2008 he wrote an article for the Guardian. The piece did not refer to Gordon Brown by name once, but was seen as a direct challenge to the prime minister's leadership.
Headlines such as "Labour at war" in the Daily Telegraph followed, as those around Mr Brown aggressively defended their man.
Mr Miliband, the foreign secretary and MP for South Shields, did not elaborate on his coded criticisms and the story drifted away.
"His huge moment was Summer 2008; Gordon Brown was massively destabilised by his Guardian article; but we monstered him because of his timidity," Mr Brown's then spin doctor, Damian McBride, reflected on Twitter today.
"The best of his generation but no chin when it mattered," Mr McBride added, bluntly.
Fast forward a year, to June 2009, and there was a second chance. Cabinet minister James Purnell resigned, strongly criticising Gordon Brown's leadership.
Some have suggested if David Miliband had resigned then too, that could have been sufficient to bring Mr Brown down.
Al Gore II?
A matter of months later, a BBC colleague overheard Mr Miliband in a lift at the Labour Party conference, shortly after some carefully calibrated praise in a speech from him for Gordon Brown's speech.
"I couldn't have gone any further. It would have been a Heseltine moment," Mr Miliband said.
The private comment, made in a lift, was an apparent reference to the Conservative former Deputy Prime Minister Lord Heseltine, who challenged the leadership of Lady Thatcher, but never landed his party's leadership.
"He who wields the knife never wears the crown" Lord Heseltine later reflected. Mr Miliband seemed keen to learn the lesson.
All of which meant, after Labour lost the election, Mr Miliband, the former head of Tony Blair's policy unit, was in prime position to replace Mr Brown as party leader.
Or so he thought, until his kid brother rather ruthlessly decided he fancied the job and made the most of his big moment, whatever his elder brother made of the idea.
'Avoidable'
James Kirkup in the Daily Telegraph brands David Miliband "the Al Gore of British politics", someone who did not quite make it.
Mr Gore's failure to win his home state of Tennessee in the tightly fought battle for the US presidency in 2000 against George W Bush reflected a reluctance to spend time courting his own people.
This was, Mr Kirkup argues, the same type of mistake he believes David Miliband made in not making enough effort to charm his fellow Labour MPs.
He calls it "a decisive yet avoidable political error".
Who knows? The apparent opportunities may have come to nothing, or Miliband senior could have become prime minister only to be turfed out by the electorate months later.
"All political lives, unless they are cut off in midstream at a happy juncture, end in failure, because that is the nature of politics and of human affairs," reflected the Conservative politician Enoch Powell.
This opportunity to move to New York come at a happy juncture, David Miliband insists. But his brother cut off his political life in midstream.
And so David Miliband joins Michael Heseltine, Denis Healey, Kenneth Clarke, David Davis and many others who, for one reason or another, nearly made it.