NHS emergency set-up unclear, say MPs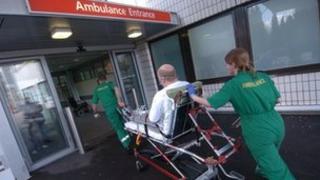 The government's overhaul of the NHS in England mean it is "not clear who will be in charge in the event of a health emergency", MPs have warned.
From April, councils must set up health and wellbeing boards to oversee and co-ordinate services across the NHS, social care and public health sectors.
The Communities and Local Government Committee said this could result in "muddle" and demanded more "clarity".
The government says there are "clear lines of responsibility".
The boards will include representatives from clinical commissioning groups, hospitals and patient groups, as well as councillors.
'Confusion'
But the committee's report said it "is not clear who will be in charge in the event of a health emergency" either at a regional or national level.
It urged the government "to set out clearly and unambiguously the lines of responsibility".
The report said: "We heard serious concerns about the arrangements for screening and immunisation.
"We urge the government and the NHS Commissioning Board to review the arrangements with a view to devolving these services to public health staff within local government, who have the local knowledge to make the system work."
The setting up of the boards follows the passing of the Health and Social Care Act last year.
The committee's chairman, Labour MP Clive Betts, said: "Without clarity there is only confusion, and a health emergency is no time for muddle.
"The government must set out unambiguously the lines of responsibility, and it must do so now as a matter of urgency.
"These arrangements need to be clear and in place on day one, 1 April. Anything else is unacceptable."
The committee also warned that the national NHS Commissioning Board would lack "local accountability" and that its status in relation to Health and Wellbeing Boards was unclear.
Mr Betts said: "Under the reformed system, considerable power is to be invested in a range of new bodies. With such power must come accountability.
"The purpose of localism is not only to devolve decision making to a local level, but to make it accountable to local people.
"With these changes it is clear that there is a shift of power and money from the Whitehall to local government and I welcome that.
"But the new arrangements are complex and responsibilities are shared across several bodies.
"The result is that lines of local accountability are fragmented and blurred."
However, David Rogers, the Lib Dem chairman of the Local Government Association's community wellbeing board, said: "The transfer of responsibility for public health to councils is the biggest change in local government for a generation, yet in stark contrast with the unnecessarily negative view of the select committee there is widespread confidence among council bosses that we are ready for the challenge.
"In October last year we conducted a survey in which 95% of local authorities said they expect a safe and successful transition and over the last six months we have been ramping up preparations. We are eager to take on this new responsibility."
A Department of Health spokesperson said there were "clear lines of responsibility" under the new systems and the health secretary was ultimately accountable.
The spokesperson added: "From next month Public Health England (PHE) will be responsible for preparing and responding to health-related emergencies, such as a flu pandemic and will work together with NHS England [Commissioning Board] and local authorities to ensure that local areas are prepared.
"A number of experienced public health organisations and functions will transfer into PHE including the Health Protection Agency."