Young drivers could face curfew to cut accident rates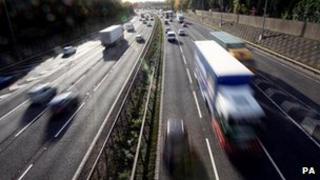 Young drivers could face a curfew as part of government efforts to prevent accidents and reduce "sky-high" insurance premiums.
They could also be made to spend a year learning before taking their tests.
And after they pass, their "probation period", during which six - rather than the usual 12 - penalty points results in disqualification, could be extended.
A fifth of road accidents resulting in death or serious injury involve drivers under the age of 24.
The average annual insurance premium for a 17 to 18-year-old road-users is more than £1,800.
Transport ministers and insurance bosses held talks on Monday on how to improve safety, with a full government green paper outlining possible future legislation to be published later in the spring.
'Alarming'
Official statistics show the risk of accidents is significantly raised at night time and, at the meeting, the Association of British Insurers raised the possibility of a curfew for drivers aged 17 to 24.
Another idea discussed was limiting the number of passengers young motorists can carry in their car and a zero-alcohol limit.
Currently drivers can take their test as soon as they are 17, but ministers are looking at creating a minimum learning period, possibly of six months or a year, to give them more on-the-road experience.
Learners could also take lessons on motorways, which is banned at present.
At the moment, newly qualified drivers can be banned from the road for amassing six - rather than the usual 12 - penalty points. This "probationary period" could be extended from two to three years.
And driving tests could change to include more unsupervised driving time, where examiners can observe candidates in more "natural" surroundings to assess their skills.
Transport Secretary Patrick McLoughlin said: "It is alarming that a fifth of people killed or seriously injured on our roads in 2011 were involved in a collision where at least one driver was aged 17 to 24.
"Improving the safety of our young drivers is therefore a real priority and will not only reduce casualties but should also mean a reduction in the sky-high insurance premiums they pay."
Otto Thoresen, director-general of the Association of British Insurers, said: "We have long campaigned for changes to the current approach to learning to drive which does little to help young people become safe, secure drivers.
"Sadly young newly qualified drivers are at a much higher risk of having a serious crash on our roads which is reflected in the cost of their car insurance. Insurers want to see young drivers become safe drivers which in turn will result in more affordable premiums."