Heseltine questions 'national will to improve economy'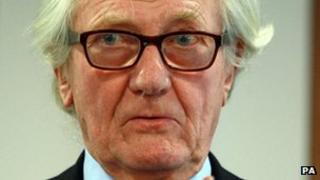 Lord Heseltine has suggested the wealth of British people means they lack the "national will" needed to match growth rates in places like India and China.
He told the Independent the "richer you get the less imperative there is" for people "to drive themselves".
The former Conservative deputy prime minister said "all these comparisons" with India and China "were ridiculous".
He said he was just back from India: "You know why they've got to drive themselves? They've got real problems."
Last week in the Budget, Chancellor George Osborne admitted the UK's economic recovery was taking longer than expected but insisted "we are, slowly but surely, fixing our country's economic problems".
His comments came just after he had announced that the official forecast for growth in the UK economy this year had been halved to 0.6% from the 1.2% predicted in December.
India's economic growth projection for this year has also been cut, but in its case to 5%. China's economy grew at its slowest rate for 13 years in 2012 - but at 7.8% was still far ahead of UK figures.
'Ridiculous' comparisons
Lord Heseltine dismissed comparisons between the UK and the two faster growing economies.
"Maybe one of the problems of advanced economies is that people are sufficiently well off that they don't need to drive themselves any more," Lord Heseltine said.
"All these comparisons with China and India are ridiculous. I've just come back from India. You know why they've got to drive themselves? They've got real problems. While in this country there are people with problems, the vast majority of people have standards which are not comparable with the Third World."
Asked whether he believed poor growth stemmed from a lack of desire, Lord Heseltine replied: "It could be. I don't personally subscribe to that view but I don't discount it as a possible thought... I think there is in the nature of most people a desire to do something and to do it better, and do it to a degree of personal satisfaction."
Lord Heseltine, whose plans to improve the economies of English cities other than London were accepted by the government this month, was asked by the Independent if it was essential to improve the economy.
He replied: "It's not essential. It doesn't need to. It can go on drifting down.
"There is no God-given rule saying you've got to have a well-performing economy. It could be an indifferent economy. It's a question of whether the national will is there; whether we want it. And the richer you get the less imperative there is."