Diane Abbott calls for purge of 'sexualised' imagery from High Streets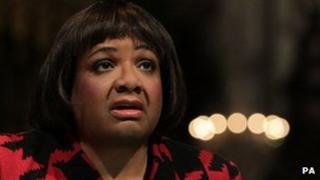 Shadow health minister Dianne Abbott has called for a purge of sexualised imagery from public spaces in the UK.
"I think it has reached a point where we need to detox our High Streets, and make Britain a family-friendly country again," she told the Mumsnet website.
She also blamed a "disturbing" trend for online bullying of young women on a "crisis in masculinity".
Ms Abbott plans to make a speech on the issue.
"I think we need to clear our public spaces of worst elements of unrestrained markets - including addressing music videos that blare out at us, and our children.
"The online bullying including problems around 'sexting' and 'slut-shaming'; the huge billboards that have very sexualised images of women that loom over our public spaces, and the sexualised figures of women in films that are now commonplace.
"For me the key, is putting parents back in control, and also putting open-minded family values back in our public spaces."
'Pornification'
The Labour MP said online bullying of women by men and boys was part of a "very strange, disturbing and sad cultural development".
"I think we have a culture now where sexuality, and women, have become commodified," said the Hackney North MP.
"And one of the problems between this blurring between sex and the marketplace, and the pornification of British culture, is this myth of women's unconditional sexual availability and object status."
Many men and boys "aren't happy [with] this culture either," she added.
She highlighted "online bullying including problems around 'sexting' and 'slut-shaming'", which she said had become "fashionable".
"Many young girls of all classes are pressurised into exposing themselves online, and are then humiliated," she explained.
There is "a very specific form of sexuality that's being imposed, on children and adults: a porn version. It's particularly damaging to young girls, in my view," she said. "And this has been made worse by fast-developing technology.
"I think this culture tells girls in particular that they are only valued as a sex object. It tells girls that the most important quality they need is 'sexiness'."
"The current issues facing boys," commented one Mumsnet user, "are the result of constructions of masculinity and are not caused by feminism."
Ms Abbott responded: "Absolutely. One reason I am anxious to make a big speech about men, boys and male identity is to nail the lie that feminism is somehow the cause of the problem."
'Complete transformation'
The Labour MP cautioned against defeatism: "There's lots we can do. I think we're often told that 'the world has changed' and there's nothing we can do, but there are plenty of things, without going out and making people feel that sex is wrong and shameful.
"We need to talk about these issues more for a start."
She called for "a complete transformation of sex education in this country", adding: "The government has blocked any movement on legislation to introduce compulsory sex and relationship education."
She also mooted "putting parents back in control".
"Nowadays porn is pretty intense stuff" and was easily accessed by internet-savvy youngsters, remarked one Mumsnet user, who added that many parents did not comprehend the scale of problem.
This was a "really important" point, Ms Abbott agreed.
"Most adults think that porn is just girls with naked breasts. But actually the stuff children can access nowadays is, as you say, hardcore. And the average age of boys accessing pornography has dropped from eleven to eight."
She said ministers should be "making sure internet users have to make an active choice over whether they allow adult content or not".