Budget 2013: George Osborne joins Twitter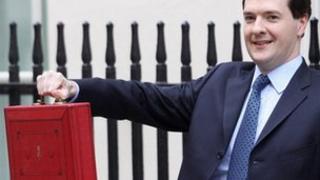 Chancellor George Osborne has used Budget day to join Twitter and post his first message on the website.
His first tweet was: "Today I'll present a Budget that tackles the economy's problems head on helping those who want to work hard & get on."
The verified profile is "run by George Osborne and @conservatives team".
It includes a link to a picture of the chancellor in an open necked white shirt working at his desk, with the red budget box in front of him.
Within an hour of posting his first message he had 13,132 followers.
The number of people he follows increased from an initial 9 - including David Cameron and No 10 - to 39, suggesting that he, or someone in the @conservatives team, was hard at work on the microblogging site during the build-up to the Budget, which he will deliver at 12:30 GMT.
Mr Cameron, who re-tweeted Mr Osborne's first message, joined the site in October, and has 261,203 followers.
But the chancellor's first target may be to surpass the 77,181 followers amassed by his Labour shadow Ed Balls, a longstanding user of the site.
Mr Osborne was trending in the UK following his first message - but although he received a warm welcome from Conservative colleagues, he was bombarded with abuse from some other Twitter users.
"I have a feeling new Tweeter @george_osborne is about to discover that Twitter isn't always the best place for helpful, supportive advice," tweeted London School of Economics media chief Charlie Beckett.
"If he thought the reception he got at the Olympics was bad...," tweeted former tabloid journalist Rich Peppiatt.
US President Barack Obama, who has more than 28 million followers, is the most popular politician on Twitter and made the site a key part of his 2012 election strategy.
He broke new ground by breaking the news of his re-election to his Twitter followers before the US television networks.