Budget 2013: Cuts, giveaways and grim forecasts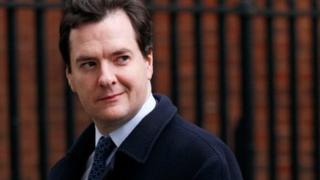 First the cuts. Next the giveaways. Then the grim economic forecasts.
Today, all but the lucky cabinet ministers with ring-fenced departments have just learnt that their budgets are to be cut again.
Tomorrow the chancellor will use his Budget to spell out how the money saved - £2.5bn over the next two years - will be spent, and reveal another set of miserable economic forecasts which one senior minister told me will be "extremely bracing".
George Osborne has promised that he will help people who "want to work hard and get on, own their own home and save for their retirement".
So, standby for a boost to house-building or, rather, yet another government attempt to stimulate the construction sector, which shrank by almost 8% last year. The government looks likely to extend its NewBuy scheme to help people with small deposits buy newly built homes.
'Beer tax'
The chancellor has already quietly raised some money from the reform of the state second pensions, which will see some employers and employees paying more national insurance.
That cash could be used to pay for a tax cut - perhaps a further increase in the tax-free allowance to reach the Lib Dems manifesto target of £10,000 or the postponement, again, of planned increases in petrol duty.
A year ago what became labelled as an "omnishambles" Budget levied new taxes on pasties and caravans. George Osborne has been looking at securing the headlines this year by scrapping a much hated tax: the so-called "beer tax" - the automatic 2% increase above inflation in alcohol duty - which both the Sun and the Sunday People have campaigned to see the back of.
If George Osborne is to freeze beer tax, he will feel under pressure to increase taxes on cheap but strong alcoholic drinks to show that the government has not abandoned David Cameron's campaign to crack down on cheap booze.
All these relatively minor measures are likely to be overshadowed by yet another downgrading of the official economic forecasts by the Office for Budget Responsibility which is likely to predict lower growth and higher borrowing in the years to come.
After the next election, if not before, that will guarantee that there will be further steep tax increases or eye-watering spending cuts - a political choice the chancellor will want to highlight tomorrow in order to put his shadow, Ed Balls, on the spot to spell out what Labour would do.