Cyprus bailout: British pension payments delayed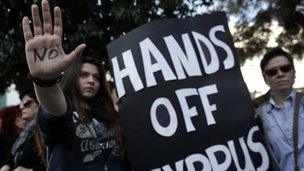 Pension payments to expatriate Britons in Cyprus have been put on hold until the country's financial position becomes clear, MPs have been told.
Treasury Minister Greg Clark said payments had been frozen to ensure money reaches its intended recipient.
He reassured pensioners that their money was being "held safely" and they would not lose out.
He advised them to switch their designated bank accounts online to continue receiving payments.
The "several thousand" British pensioners in Cyprus should contact the International Pension Centre through the Department for Work and Pensions website "as soon as possible" for details of how to do this, he added.
Mr Clark said the situation in Cyprus was "fluid" and he urged MPs to await the outcome of a vote in the Cypriot parliament on a proposed one-off tax on savings, expected on Tuesday,
He told MPs: "Today (Monday) is a bank holiday in Cyprus and to ensure any payments made by the government to banks in Cyprus get to the intended recipient, all future pension payments paid by the government to British citizens in Cyprus will be temporarily put on hold until least tomorrow (Tuesday).
"This allows us to take stock of developments in Cyprus.
"Any UK pensioners in Cyprus can be assured their future pension payments are being held safely and normal payment service will resume when the situation in Cyprus becomes clear."
Mr Clark confirmed earlier announcements that more than 3,000 British service personnel based in Cyprus would be compensated by the British government if the one-off levy on savings goes ahead to ensure they would not suffer "unreasonable losses".
He acknowledged it was a "worrying time" for other British people with money in Cypriot banks, but there was little the UK government could do as they were subject to Cypriot laws.
A 10bn-euro ($13bn; £8.6bn) bailout for Cyprus has been agreed by the EU and IMF, but all bank customers in the country must pay a one-off levy.
Under the currently agreed terms, depositors with less than 100,000 euros in Cyprus accounts would have to pay a one-time tax of 6.75%. Those with sums over that threshold would pay 9.9%.
The Cypriot government is now looking at changing the terms of the deal so small savers lose less, while big depositors pay more.
Mr Clark came under fire from MPs on all sides as he briefed the House of Commons on the proposed Cypriot savings levy.
Conservative MP Bill Cash branded the move "daylight robbery of British pensioners" and argued "this is actually symptomatic of the dysfunctionality of the EU".
Green MP Caroline Lucas asked why Mr Clark was not more angry at the "immoral and unfair" way depositors had been treated.
Mr Clark said he was "scandalised" by what had been allowed to happen to the Cypriot banking system but he said there was little the UK government could do to influence the outcome of negotiations as it was not a member of the eurozone.
Labour's former foreign secretary Jack Straw said there had been a lack of effective supervision of the Greek Cypriot banking system and it had become a "haven for Russian money laundering".
Mr Clark said the agreement between Cyprus and the EU and IMF included action to address the "reputation that has been established in Cyprus as being a potential home for money laundering" .
But he insisted the situation in Cyprus was "unique" and British citizens with money in Spanish or Portugese banks, or other eurozone countries, did not need to worry.
"I don't think it would be right to draw a parallel between what is happening in Cyprus and the situation elsewhere," he said.
Labour's shadow Treasury minister Chris Leslie said developments in Cyprus risked further undermining confidence in Europe's shaky banking system.
"This was a very risky decision and we would expect the British government to caution against such a sequestering of the funds of ordinary bank customers."
He urged Mr Clarke to lobby for non-eurozone countries to be allowed to observe and contribute to discussions.
Tory MP Andrew Tyrie, chairman of the Treasury select committee, said the decision risked "triggering a run on the banks of other indebted countries".