Boris Johnson defends City bankers on French radio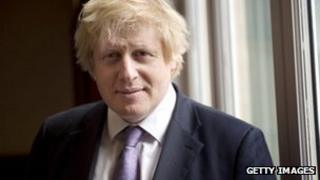 Mayor of London Boris Johnson has defended bankers in the City of London during a visit to Paris.
During an interview on French radio, Mr Johnson - who was speaking in French - said Europe's attack on bankers was a "distraction" from the real problem - a loss of confidence in the euro.
Later, Mr Johnson argued against an EU cap on bankers' bonuses.
He said in a speech such a move would "pick on London" and could inflame British feelings against the EU.
Mr Johnson, who is in Paris to meet with business leaders, spoke to members of the Franco British Chambers of Commerce and Industry.
'Miserable microcosm'
He said: "It makes no sense for us to attack the continent's number one financial centre with bonus caps or any other ill thought-out measure, because those bankers will not vanish to France or to Frankfurt.
"They will go to Singapore or Hong Kong or New York and we will be senselessly degrading one of the EU's greatest commercial assets."
He called the eurozone "a miserable microcosm of low or zero growth" and argued that, in keeping the euro for the foreseeable future, Europe's leaders had helped to preserve "the deep structural problems that the euro helps to create and intensify".
He said the only way forward was "to deal with our budgetary problems as best we can while doing everything we can to stimulate growth".
"Certainly, in Britain's case, that remains reform of labour markets and welfare, investing in housing and transport and, above all, it means junking the rhetoric of austerity for an age of enterprise," he added.
Speaking earlier on France Inter, the mayor, who has a French grandmother, said: "In my view, Europe's problem is that at the moment it is attacking London's bankers. That is a diversion, a distraction. The problem remains the euro."
In light of David Cameron's recent promise of an in/out referendum on the EU after the next election, Mr Johnson was asked by a French caller for his views on whether the UK should leave the EU.
A recent survey found that 61% of French people are in favour of Britain's departure.
'No solution'
Mr Johnson said: "Personally, I would like to stay in the single market. We need to stay in the council of ministers of the internal market. In my view, the British have done good things for Europe."
Referring to the fact that French companies now provide London with red buses, electricity and water, he added: "We have the free movement of goods meaning French companies can buy important things like infrastructure in the UK and we benefit."
He said he would not vote for the UK to leave the EU if David Cameron was successful in securing some reforms to the institution.
He added: "You are not seeing growth in England, or France, only in Germany.
"Like Nicholas Ridley said 20 years ago, the monetary union in Europe will be very good for Germany and that is what we're seeing.
"It's a machine for exporting the goods of German factories. No-one can resist because the single currency gives an unbelievable platform for these exports. You cannot find a solution in my view."