TPims: Terror watchdog urges higher standard of proof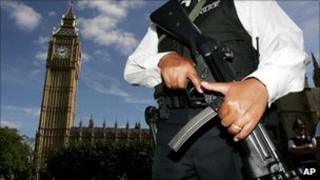 Extreme restrictions on the movement of terror suspects are being imposed without sufficient proof of a threat, according to the government's reviewer of terror legislation.
In his first annual report on the Terrorism Prevention and Investigation Measure (TPim) regime - brought in to replace control orders - David Anderson said the government needed a higher standard of proof before they applied to the courts for an order.
Mr Anderson, a senior lawyer, said the Home Office also needed to do more to develop what he called "exit strategies" for the terror suspects, to try to change their behaviour.
Ten men - nine of whom are British - are currently subject to TPims, which places a raft of restrictions on what they can do.
One of these - Ibrahim Magag - has been on the run since December although the home secretary has said she does not believe the 28-year old's disappearance was linked to any current terror plot.
In his report to Parliament, Mr Anderson QC said the probation service and services provided as part of the government's counter terror Prevent strategy should be used more.
The Prevent strategy, which is aimed at establishing closer links between police and local communities, was launched by the previous Labour government and underwent considerable change when the coalition came to power.
It came in for renewed criticism recently after three would-be suicide bombers from Birmingham were convicted of plotting to carry out attacks in the UK which could have been more deadly than the 7/7 bombings.
Police in the West Midlands defended the multimillion pound initiative, after it emerged relatives of the three men chose to intervene themselves when they became suspicious about their behaviour, rather than passing information to the police.
Time limit
One of Mr Anderson's key recommendations is that the government keep "under careful review" whether it should change the law to require more evidence that a suspect is involved in terrorist-related activity.
At the moment, the home secretary must "reasonably believe" an individual is involved.
Mr Anderson says that could be toughened up to the level required in civil court cases, to be proved "on the balance of probabilities". Secret court hearings - known as closed material procedures - are part of the TPim process.
The independent reviewer has also challenged the new two-year-limit on TPims - a restriction that wasn't part of the previous control order regime scrapped at the start of 2012. Although he concluded that it is the best compromise.
Mr Anderson described this as the "boldest and most significant aspect of the change" and said it was "tempting, in the most serious cases, to wish for longer".
He said this could mean that many of the men currently subject to the measures "will be freed of constraint in early 2014". Some of them are suspected of links to terrorism that he describes as at "the highest end of seriousness".
Location details
The names of most of the men who are subject to TPims have not been made public - but Mr Anderson said the Home Office should supply "information regarding the location of T-Pim subjects" on a region-by-region basis.
Historically, much of the focus of attention on terror suspects has been on London.
Mr Anderson's report cites a speech made by Jonathan Evans, the head of MI5, last year when he said "Britain has experienced a credible terrorist attack plot about once a year since 9/11".
In a separate development, Theresa May has rejected proposals to offer some terror suspects bail.
The home secretary said it "raises too great a public safety concern" to consider allowing the courts to release some suspects arrested under terrorism legislation passed in 2000.