Car insurance: MPs to investigate impact of whiplash claims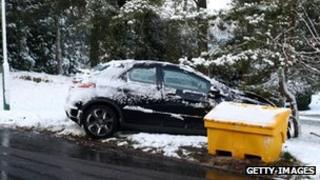 MPs are to investigate the extent to which claims for whiplash injuries are pushing up the cost of car insurance.
The Commons Transport Committee said it wanted to examine suggestions that rising payouts meant the UK was now the "whiplash capital of the world".
It will look at the impact fabricated and exaggerated claims have on premiums and what can be done about them.
Ministers say action is needed to curb the 60% increase in road-related personal injury claims since 2006.
Whiplash is characterised by the NHS as a neck injury caused by a sudden movement of the head forwards, backwards or sideways.
Claims for such injuries have soared in recent years despite improvements in vehicle safety and a sharp reduction in the number of reported accidents involving personal injury.
The cross-party committee has already held two inquiries into the rising cost of car insurance in the past three years.
But now it plans to focus specifically on claims for whiplash injuries - of which there were more than half a million last year - and how they affect what drivers are paying for insurance.
'Epidemic'
Insurers say there has been an "epidemic" of claims - with 1,500 made every day - and their £2bn annual cost is adding £90 to the average premium.
In a consultation document published in December, the Ministry of Justice set out ideas for action, including creating new medical panels to improve diagnosis of whiplash injuries and allowing more cases to be challenged in the small claims court.
The committee wants to know whether the government's proposals will reduce the cost of premiums and what proportion of the £90 figure is attributable to inaccurate or fraudulent claims.
It will also study the likely impact of the proposals on genuine claimants and what else can be done to bring down premiums.
Louise Ellman, the Labour MP who chairs the committee, said the issue was "difficult", but she and her colleagues wanted to weigh up all the arguments about the best way forward.
"It is vitally important for policymakers to understand the reasons for the very high cost of motor insurance, especially for young drivers and to take steps to bring that cost down," she added.
"Whiplash claims undoubtedly play a part in driving up the cost of motor insurance but access to justice for injured people must be preserved."
'Fraud of choice'
Former Justice Secretary Jack Straw has mounted a high-profile campaign against what he says is the large increase in dubious whiplash claims, tabling a private member's bill in 2011 urging reform of motor insurance.
The Association of British Insurers has called for whiplash injuries to be assessed by an accredited medical expert, trained in the latest diagnostic techniques and able to take into account the circumstances of the collision rather than the claimant's reported symptoms.
It also says a set level of damages should be prescribed for whiplash claims and any exaggerated claim should be thrown out entirely.
"Insurers want to make it simpler and quicker for genuine whiplash claimants to get fair compensation," says the body's assistant director of motor and liability James Dalton.
"But whiplash is notoriously difficult to diagnose, which means that for too many people it has become the fraud of choice."
The government said it had taken action to help bring down insurance premiums by banning referral fees, reforming no win no fee rules and cracking down on fraudulent whiplash claims.
"In addition, we are considering several options to ensure that newly qualified drivers are properly prepared and drive safely, allowing insurers to reduce premiums for this age group," Roads Minister Stephen Hammond said.
"We continue to work with young people, the insurance industry, and other key partners in addressing this important issue."