Two MPs locked in Commons library after working late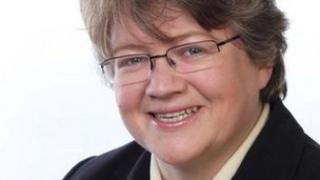 Two MPs found themselves locked in the House of Commons Library on Wednesday, having stayed there working late.
Conservative MP Therese Coffey and the Lib Dems' Tessa Munt were involuntarily incarcerated in Parliament after officials locked the library doors.
Ms Coffey took to Twitter to describe their plight, using the hashtag #librarygate. "Free the Westminster two!" responded one follower.
The two MPs were liberated after twenty minutes or so, at about midnight.
"Tessa Munt and I have been locked in House of Commons library while we were working. Still waiting for Security to unlock the doors," wrote Ms Coffey, the MP for Suffolk Coastal.
'Aggravated'
She and fellow coalition MP, Ms Munt, the Liberal Democrat MP for Wells in Somerset, had phoned for assistance "four times", she added.
Fellow MP Nadine Dorries asked them: "Have you heard of laptops and homes?!"
But while she continued to wait for help, Ms Coffey responded to a message from "Halesworth's Portas Town Team", urging her to attend "the launch of Halesworth's new logo on Sat at 12 at Library".
"Will try," she wrote.
Asked on the BBC's Daily Politics programme why she was working so late, Ms Munt said: "I'm afraid I do.
"I've got quite a lot to do. We've got masses and masses of stuff going on, and so I tend to use the House of Commons library because it's a very convenient place.
"The debates had stopped at about 7.45 last night, so I slipped into the library. At 11.45, I thought, 'about time to go home,' only I couldn't."
She said she had been "rather aggravated" that the officials had left the lights in the library on even though they thought the room was empty, causing unnecessary expense for the taxpayer.
"We should be switching the lights off as a matter of course," Ms Munt told viewers.