Russia warns UK on arming Syrian rebels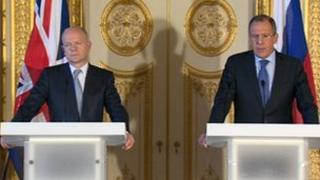 Any attempt by the UK to arm Syrian rebels would be a breach of international law, Russia has warned.
It comes after David Cameron suggested the UK would consider vetoing an extension to the European Union's arms embargo on Syria.
Russian Foreign Minister Sergei Lavrov, who is London for talks with the foreign secretary, made it clear Moscow would oppose any move to supply arms.
William Hague said the UK had "not ruled out anything in the future".
The British government has already promised to give "non-lethal" assistance to forces opposed to President Assad.
Up to 70,000 people have been killed in Syria and a million refugees have fled the country since the crisis began two years ago.
'Violation'
The latest UN figures show that two million have been internally displaced, while 400,000 have fled abroad since the start of the year, with the largest number seeking shelter in Jordan, Lebanon, Turkey, Iraq and Egypt. The UK has provided £139m to help run refugee camps.
During a press conference following a meeting with his British counterpart, Mr Lavrov said: "In our point of view it [arming the Syrian opposition] is a violation of international law."
But Mr Hague said it wasn't clear how grave the situation would become, adding: "We have never ruled out anything in the future."
"Anything we do will be legal and clearly stated to our country and to the international community."
And he insisted: "As long as a political solution is not found we will increase our support to the opposition and to the Syrian people to save lives and promote that political solution."
Sergei Lavrov stressed that the way forward on the crisis was through diplomacy and rejected putting conditions on the removal of President Assad before a political solution is found.
"I believe the destiny of Bashar al-Assad should be decided by the Syrians themselves," he said.
'No agreement'
Mr Hague said the UK and Russia were "well known" for their differences but said it was "vital", as UN Security Council members, that they work together.
He admitted that the talks had failed to result in agreement "on any specific plan for talks between the National Coalition and the Assad regime or on action at the UN Security Council".
"We did very much agree on the need for progress and the need for a political settlement in Syria," he added.
"I think we found enough common ground on our concerns and our objectives to certainly continue our efforts to full agreement on these matters."
He said he welcomed Russia's willingness to develop a fuller dialogue with the Syrian National Coalition and said he hoped its leader would visit Moscow soon.