EU elections: Polling day will stay on Thursday, insists government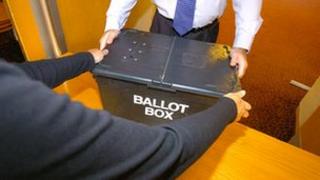 The government has rejected calls for UK elections to the European Parliament to be moved from their traditional Thursday polling day to the weekend.
The European Commission wants the 27 European Union nations to hold polls on the same day rather than over a four-day period as is currently the case.
Most of the nations vote on a Sunday.
Europe Minister David Lidington said the UK would not embrace a "one-size-fits-all approach to elections day" and would continue to vote on a Thursday.
The next European Union (EU) elections will be held in May 2014.
Brussels believes the elections should be held on a "common day", suggesting research indicated it would boost turnout.
Participation in the UK at the last election, in 2009, dropped to 34% while average turnout across the EU fell to 43%.
"Having one day would make clear that European elections are a common endeavour and would better reflect common participation by citizens across the European Union, as part of the representative democracy on which the EU is founded," Justice Commissioner Viviane Reding said.
But Mr Lidington said the "UK holds elections on Thursdays and we will carry on holding elections on Thursday".
"There is a rich electoral history across Europe and we don't want to see this diversity undermined by mandating a one-size-fits-all approach to elections day," he added.
The UK also downplayed suggestions that political parties standing in the elections could nominate their choice for president of the European Commission.
Mr Lidington said parties were free to express their views, but the process for choosing the president - in which a candidate is chosen by the member states and approved by the European Parliament - was clearly set out in EU treaties.