Syria: UK's Cameron 'may veto EU arms embargo'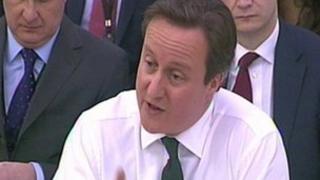 David Cameron has said the UK would consider vetoing any extension to the European Union's arms embargo on Syria.
The embargo is due to be renewed in May, but the prime minister said it was "not out of the question we may have to do things in our own way".
The government has already promised to give "non-lethal" assistance to forces opposed to President Assad.
Mr Cameron said the UK was "still an independent country", although he hoped the whole EU could reach agreement.
Last week, Foreign Secretary William Hague said the government would provide armoured vehicles and body armour to opposition forces in Syria "to help save lives", and offer millions of pounds in equipment, including search and rescue, communications, and disease-prevention materials.
'Transition'
Up to 70,000 people have been killed in Syria and a million refugees have fled the country since the crisis began two years ago.
The latest UN figures show that two million have been internally displaced, while 400,000 have fled abroad since the start of the year, with the largest number seeking shelter in Jordan, Lebanon, Turkey, Iraq and Egypt. The UK has provided £139m to help run refugee camps.
EU members are divided over whether to lift the embargo, with some, such as Germany, concerned that this would lead to a proliferation of arms in Syria and the surrounding region.
France supports the UK in calling for an easing of restrictions.
Questioned by the Common Liaison Committee, made up of senior MPs, Mr Cameron said: "I hope that we can persuade our European partners, if and when a further change becomes necessary, [and that] they will agree with us.
"But if we can't, then it's not out of the question we might have to do things in our own way. It's possible."
He added: "I hope that wouldn't be the case. What I would like to do is continue with an EU approach."
He said the UK was "still an independent country" and "we can have an independent foreign policy".
The commander of the rebel Free Syrian Army, General Selim Idriss, has called for the lifting of the EU embargo, saying it is having a much more negative effect on the opposition than on the Assad regime.
Mr Cameron said: "It's worth standing back and asking 'Why are we doing this?'. It seems that if we want to help bring about a transition in Syria, we have to work with opposition groups."
Vetoing the embargo was "not a decision we have taken", he added, telling the MPs: "And I hope we don't have to break from a collaborative approach across the European Union."
"It may be that doing nothing will see the level of Jihadism get worse," the prime minister said.