Archbishop was wrong on benefits cap, says Duncan Smith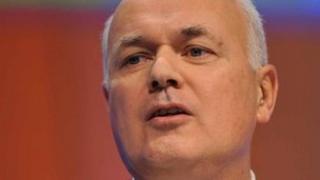 Work and Pensions Secretary Iain Duncan Smith has dismissed the Archbishop of Canterbury's claim that benefit changes will drive more children into poverty.
Justin Welby and 43 Anglican bishops have said capping rises on working-age benefits at 1% will hit the vulnerable.
But Mr Duncan Smith told MPs the system was "out of control" and simply "giving more and more money" would not help.
"I always listen to everybody who gives me advice. I don't necessarily follow it," he added.
On Sunday, Archbishop Welby backed an open letter to the Sunday Telegraph, signed by 43 of his bishops, criticising plans to limit rises in working-age benefits and some tax credits to 1% for three years.
A "civilised society" had a duty to support the vulnerable, he argued.
'No issue'
In their letter, the bishops said they were concerned 200,000 children could be pushed into poverty.
Speaking during Work and Pensions Questions in the House of Commons, Mr Duncan Smith said: "I have no issue with the Church of England, with the bishops, for them to say whatever they believe.
"It's quite right and proper. They should try and argue with us and put pressure on us over a number of issues.
"I simply say that I don't agree that the way to get children out of poverty is to simply keep transferring more and more money to keep them out of work.
"The reality is what we're having to do is reform a system that became completely out of control under the last government, get people back in work, for being in work is how you get your children out of poverty."
Mr Duncan Smith added: "The reality is that we are doing the right thing in bringing in the benefit cap.
"For the first time ever, people on low and average earnings will realise at last that those on benefits will not be able to be paid more in taxes than they themselves earn."
'Full of holes'
Writing on his blog on Monday, the Archbishop appeared to try to defuse tension over the issue.
He said he was questioning one aspect of the government's wide-ranging welfare changes, not making a "grand political gesture" or condemning efforts to make work pay and improve people's livelihoods which were, in general, "incredibly brave".
"Iain Duncan Smith has spent hard years turning himself into a leading and principled expert on welfare, its effects and shortcomings," he wrote.
"He is introducing one of the biggest and most thorough reforms of a system that most people admit is shot full of holes, wrong incentives, and incredible complexity.
"The work and pensions secretary is also attempting this series of reforms at a time when, through no fault of his own, government finances are more squeezed than at any time in peace since the 1930s. And reforms cost money."
He added: "Mr Duncan Smith thinks I am wrong, and that is how democracies work: they are ways of disagreeing profoundly, but not destructively."